After Running ABSOT For Five Years, I Share My Top Five Blogging Tips
Five years ago, A Ballsy Sense of Tumor was born. Since then, I've put out over 200 posts about testicular cancer, men's health, mental health, and more. Prior to beginning ABSOT, I ran an educational blog called Mr. B's Blog (not as catchy of a name). That helped me get my feet wet in the realm of blogging, but this one feels more important and personal.
Each year, I write about my reflections and how the blog has grown. Since there hasn't been a ton of changes on the blogging front since last year's update, I want to focus this fifth anniversary on five things I've learned about blogging along the way. I want these to be concrete action steps, so it goes without saying that you need to stay focused on your mission and plan.
Have a plan.
If there is one thing I would go back and do differently, it would be to have started the blog on WordPress. I initially started on Blogger, because I am cheap and didn't want to pay for web hosting and a website. I eventually bit the bullet in year three and migrated everything. While this took me about a week of constant work, I think it paid off. ABSOT now looks more polished, modern, and reputable. I also have a ton more control over it.
The other thing I recommend is to have a publishing calendar. I have a table in a Google Doc (nothing fancy) that helps me pace out when I want to publish certain pieces. Personally, I try to publish 2-3 pieces I write each month, as well as one Band of Ballers feature. Certain months also have "routine posts." For example, I know every November, I write this piece. I generally like to have a post in April for Testicular Cancer Awareness Month. The calendar helps me keep track of everything. If something isn't as timely, I look for gaps and try to fill them.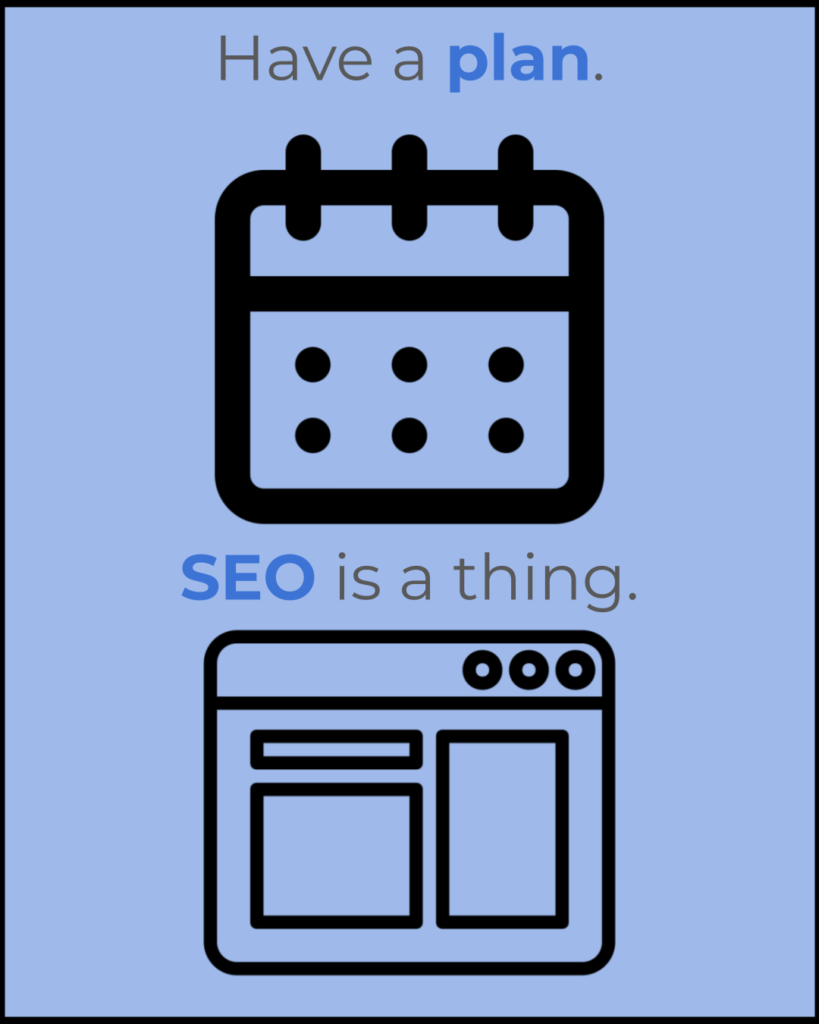 SEO is a thing.
I wish I could be more concrete about this, but I'm not totally sure I understand it myself. I just know it's important. Basically, my understanding is SEO (search engine optimization) is what helps more people find your site for certain keywords. I'm by no means an expert, but by doing certain things like using headings, linking within the site, and peppering in those keywords throughout the piece and headings, SEO helps increase the likelihood of being "found." These little tweaks have helped me increase my web traffic and ranking scores, but I'm also by no means an expert. (I just realized I've said that twice in one paragraph now.)
If you do want to connect with an expert on this, check out Megan Starshak. She's the one who gave me a lot of the tips I mentioned in this section and the previous, and she did a much better job explaining it. She's also a health advocate, so that's cool, too.
Always be looking for topics.
I'm always on the lookout for men's health topics and am pretty shameless in reaching out to companies about wanting to do a profile on them. I have alerts set up for certain keywords and thanks to the magic of Big Tech spying on me all the time, a lot of my feeds are tailored to me.
I also get pitches emailed directly to me now, which is pretty cool. However, if you're one of the companies that constantly pitch me on how to overcome menopause, please stop; I'm not your target audience. I've been living without a menstrual period for 30 years. I think I've overcome it.
I've done more and more interviews with people/companies, whether that's through email or a video call. I find these interesting and easy because the pieces have a tendency to write themselves after a good discussion. If it's an email interview, the piece literally writes itself. (Well I'm sure someone on the other side of the email writes it, but it ends up completed in my inbox. Magic.)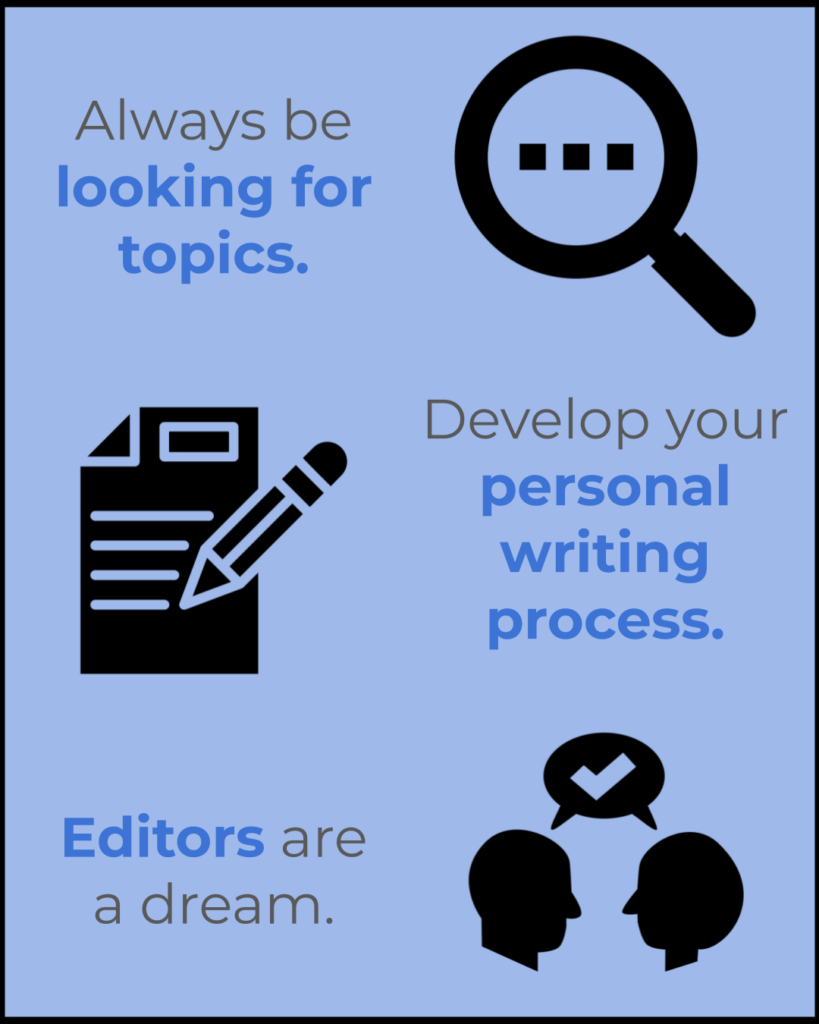 Develop your personal writing process.
Find what works for you, but this is my method. I personally semi-follow the writing process I used to drill into my fourth graders. Once I have a topic, I type up a rough outline. I come back later and flesh out those bullet points. (This is the step I'm currently on.)
Then I walk away and come back again to further refine it. (And now I'm at this step.) When I'm happy with it, I send it to an editor (more on that in the next point). While they're working on that, I design/gather any graphics I need for it. Once they're done, I pull it into WordPress, add images, add SEO stuff (see, it's important), and schedule it for publishing.
I also get into writing binges, in which I will crank through a ton of pieces in a span of an evening or a few days. This also helps me to adhere to the blog calendar. Full disclosure, I sometimes write pieces about two months before they are published. Case in point – I am writing this piece in early November, but through this writing binge, I will have all of November's, December's, and some of January's posts written. When the creative waves hit, you gotta ride them.
Editors are a dream.
I could not have done this without the help of extraordinary editors, who I am so thankful that they continue to do this and have never asked for a cent for their work. I've had a handful throughout the years, and I know I can reach out to any of them and they're happy to read and edit pieces for me… or at least they don't complain about it. My mom also likes to edit my pieces after I publish them, so there's that too.
I recommend an editor to be someone you are personally close with, has a strong mastery in writing/English language, and hasn't had cancer themselves. That last point is important to make sure articles are accessible to all, not just superior cancery folks. Mere mortals do deserve a chance to read about our experiences.
Each year, I rank my favorite posts over the past 12 months.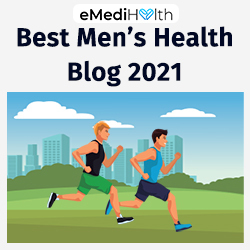 There have been 38 posts since last year's edition, which makes it hard to choose my favorites. Nonetheless, it's a noble mission that I've sworn to uphold.
Honorable Mentions:
Zooming Towards a Self Exam Record | #CheckIt4Andretti Racing to End Colon Cancer | Letting Go of Balls of Shit: These were interviews that I did, and the interviewees did most of the work, so I can't claim credit for them. However, I like them for the puns I was able to work into questions.
Band of Ballers: Again, I only edit these, so I can't claim credit. However, I encourage everyone to read all of these Uniballers' and Flatbaggers' stories – currently 45+ strong!
The List:
10. Prostate Cancer: Sheep or Wolf?: In Prostate Cancer: Sheep or Wolf?: Navigating Systemic Misinformation, survivor Murray Wadsworth shares what he wants all men to know about this cancer. I chatted with the author about this book and his experiences.
9. A Normal Scan in an Abnormal Year: 2020 could best be described as an abnormal year (and 2021 wasn't much less bananas). Nonetheless, I received my normal report after my fourth annual post-cancer scan: still in remission.
8. COVID-19 Vaccine: My First Dose and My Second Dose: I got the COVID vaccine pretty early on, and these two posts detailed the experiences of receiving them and then how I activated my tracking microchip. Spoiler – I had an urge to invest in Microsoft.
7. MENtion It 2021: Improvement to Men's Health: Cleveland Clinic's MENtion It 2021 campaign shows improvement in the world of men's health and Dr. Bajic stops by to share more tips about men's health.
6. TCF Summit 2021: Viva Las Vegas: What happens in Vegas, stays in Vegas. However, I break that rule a little to share what happened at the TCF Summit in April 2021.
5. Savvy Cooperative: A Way For Me To Give Back: I finally got out of elementary school. In June 2021, I started a new job with Savvy Coop, a patient-owned company to change healthcare by valuing the patient voice.
4. Tapering Off Antidepressants: My Experience: In spring 2021, I tapered off my antidepressants after having been on them for over three years. I'm pleased to report it was a smooth process.
3. My Five Year Testicular Cancer Scan: Nearly five years after my testicular cancer diagnosis, I have yet another CT scan. The good news: It's clean. The bittersweet news: It's the end of an era.
2. April Showers Bring Self-Exam Powers: A classic ABSOT humor/awareness post. As the adage says, "April showers bring May flowers, and other types of showers may or may not be appropriate for testicular self-exam powers."
1. Five Years Ago: A Poem of Reflection: I'm a poet, and I did indeed know it. For five years, I've been a Uniballer. On the anniversary of my orchiectomy, I wax poetically on the changes in my life over the past year.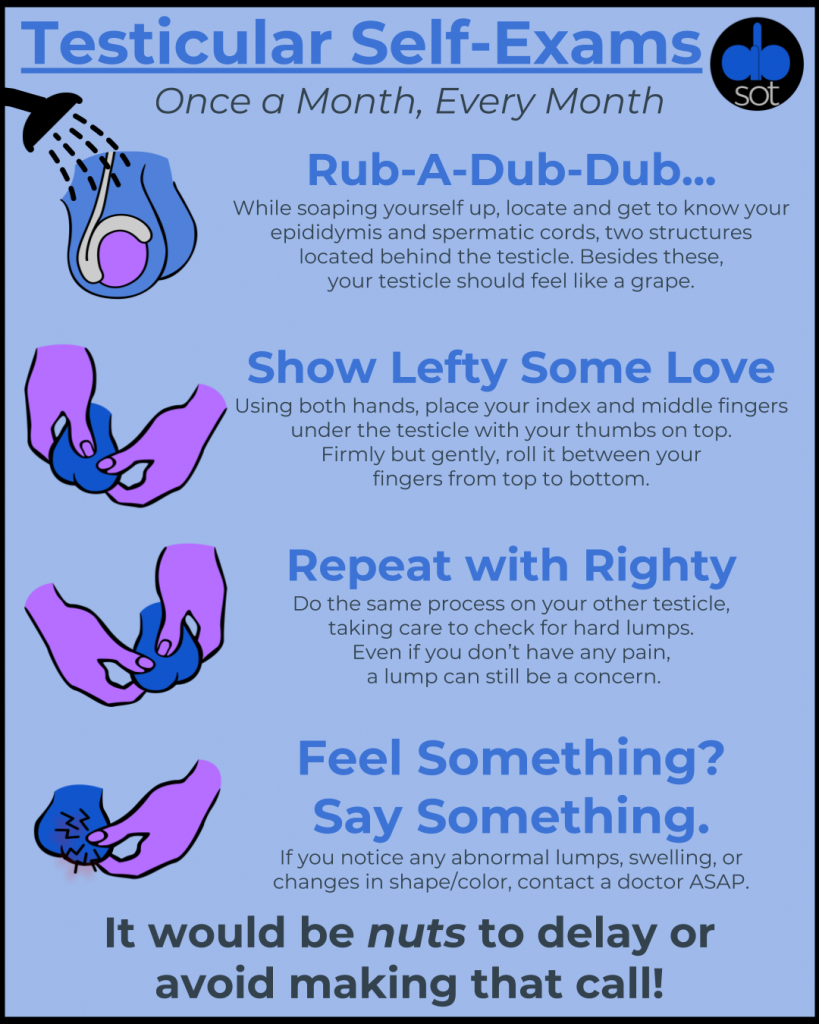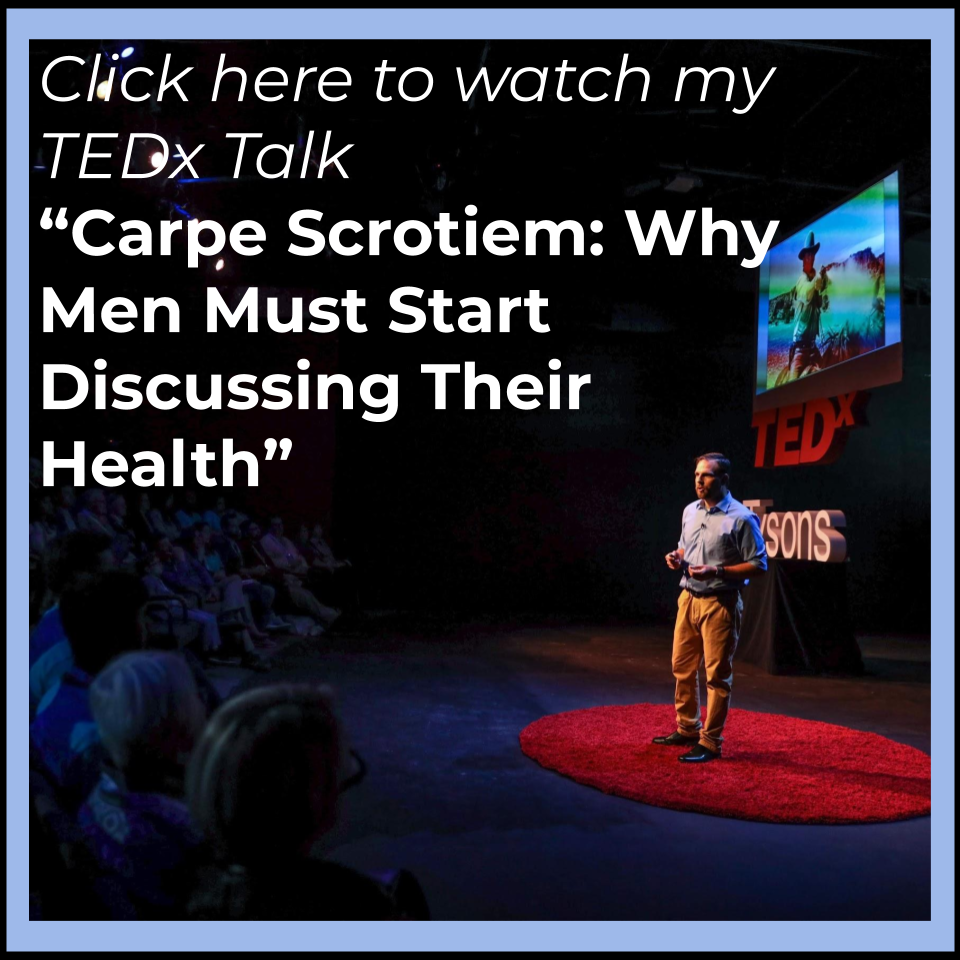 ABSOT is endorsed by the Laughter Arts and Sciences Foundation, a registered 501.c.3 charity. To make a tax-deductible contribution to help continue ABSOT's work with testicular cancer awareness and men's health, click the image below.
November 20, 2021