Steven Crocker Works to Be An Example For Others Who May Be Facing Testicular Cancer
Welcome to the Band of Ballers! In this series on ABSOT, I'm turning over control to some other ballsy testicular cancer survivors and patients who have inspired me with their work in advocacy and awareness during and after their diagnosis. This month's feature is all about Steven Crocker, who has worked to share his story. Enjoy!
At some point in late 2016, I noticed my left testicle seemed to be slowly growing. It was also increasingly getting tender and whenever I touched it, it would slightly hurt. The girl I was dating at the time really wanted me to go to the doctor because she said her dad might have beaten esophageal cancer if he had sought treatment earlier but I still didn't go. I didn't want to hear the word "cancer," even though I had the gut feeling it was.
My very basic Googling revealed that it was normal for one testicle to be slightly larger than the other so I reassured myself that it was that simple. I tried to steer away from searching testicular cancer because I didn't want to even put it into the universe but I'd always end up reading something about TC.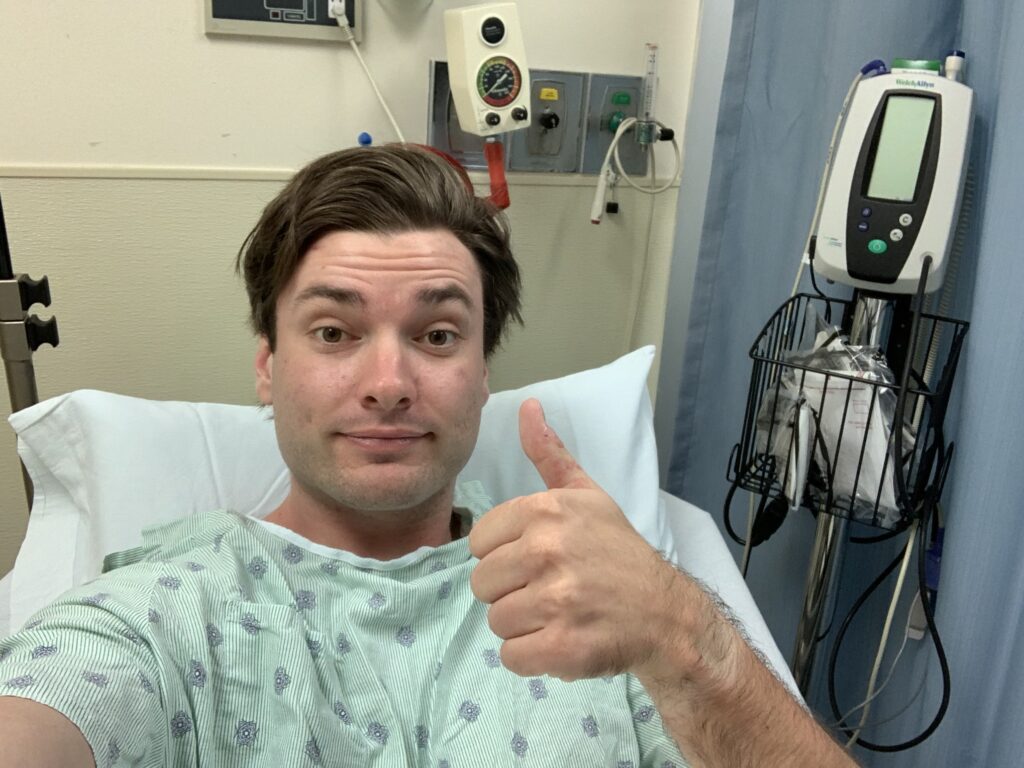 After a while of her being persistent that I go see a doctor to no avail, any mention of it dissipated and I lived quietly with the feeling that something was wrong. I let it go on quietly for about another two years.
It was then that I was driving home from work and felt some discomfort in my back when sitting in my driver's seat.
I thought it might have been my shirt bunched up so I tried fixing it but I just couldn't get it. I remembered in my Googling that the first place testicular cancer usually spreads is into the retroperitoneum. Between that feeling and being in the middle of binge watching Grey's Anatomy, I finally went to see my primary care physician on May 31, 2019. I will always remember that date specifically for that doctor visit and a mass shooting in my hometown city of Virginia Beach's municipal center.
My doctor did the typical testicular exam but didn't feel anything out of the ordinary other than what she described as a firm epididymis. She diagnosed it as potential epididymitis and prescribed an antibiotic. She also referred me to the hospital for the ultrasound I had on June 4, 2019. The way I know to deal with discomfort best is through humor, so I asked the ultrasound tech if it was a girl or a boy as she ran the instrument over my testicles. She didn't think it was as funny as I did because she's probably heard that many times before.
The next day I was in a meeting for my budding video production company's biggest job to date when my primary doctor called and said, "Steven, I was just calling to let you know that they did find a mass in your left testicle and I'm referring you to Urology of Virginia for a consultation."
On June 10, 2019, three days after my 25th birthday, I went to the urologist.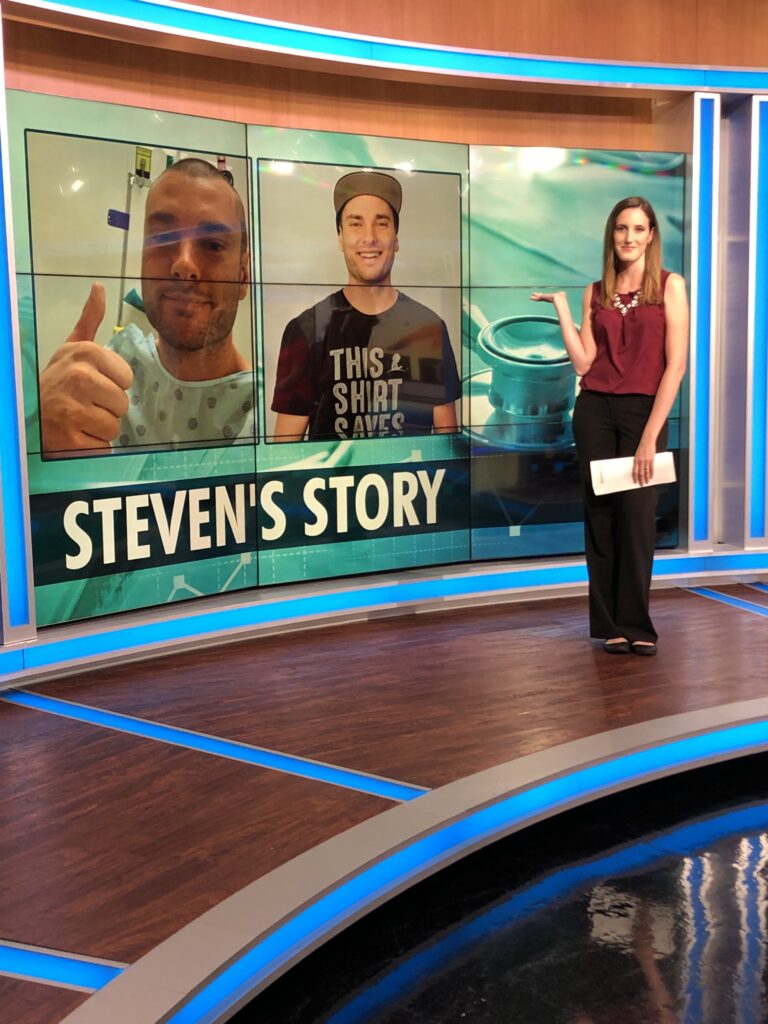 He immediately walked in the door and said, "I saw your ultrasound. Nine times out of ten a mass like that inside your testicle is cancer and needs to be removed. I have an opening tomorrow at noon, if your insurance is accepted at the hospital I'm at tomorrow." That was the first time I'd officially heard the "C" word. He did a routine testicular exam anyway while his team got my insurance authorization for the orchiectomy to be performed the following day.
I woke up one last time with both of my nuts and headed to the hospital. The doctor told my mom that it would be a quick, 30 minute surgery which sounded simple enough to me. He forgot to mention that didn't include the pre-op time so when 30 minutes passed after noon and my mom hadn't heard anything she was extremely worried. They removed my left testicle and my recovery was fairly simple.
I took a week off of work and spent most of it in bed watching Netflix and playing Xbox. The pain was mostly bearable, I have a pretty high pain tolerance and didn't take any of the opioids I was prescribed – only Advil and/or Tylenol. The worst of the pain came a few days after surgery when my nerves near my incision began regaining feeling. Walking to the bathroom sometimes caused an intense burn with every step of my left leg. That pain subsided after a few days and then it was back to life as usual.
The next step was a post-surgical CT scan of the chest, abdomen, and pelvis.
The results of that CT were given at a consultation with my oncologist who told me the stage after the surgical pathology came back. I was stage 2b. The cancer had spread to a lymph node in my retroperitoneum. My testicle's pathology was 90% seminoma, 5% embryonal carcinoma, and 5% teratoma. I had a 4cm enlarged lymph node in my retroperitoneum.
My oncologist recommended chemotherapy for my case. He presented both BEP and EP, but warned of pulmonary risks with BEP. He used an analogy of Coke versus Pepsi, saying that doctors have their preference just like with soda. We mutually agreed on EP. The first time I felt myself getting emotional was when he told me that I was going to lose my hair. He recommended that I bank sperm as the effects of chemo on reproductive function vary from patient to patient. I decided to bank my sperm about a week later.
Knowing that chemo was going to take my hair, I wanted to take control of it.
I arranged with some of my lifelong heroes that if I raised $500 for the Testicular Cancer Awareness Foundation, they would shave my head. Action sports legends Travis Pastrana and Phil Smage among others shaved my head on July 2, 2019. Travis also took me for the ride of a lifetime in a Polaris RZR side-by-side over some jumps in his backyard. My orchiectomy incision was still healing and he asked if it felt okay – I think maybe the adrenaline had taken over but I felt nothing down there at the time.I had my mediport put in on July 5, 2019 and began chemo on July 15.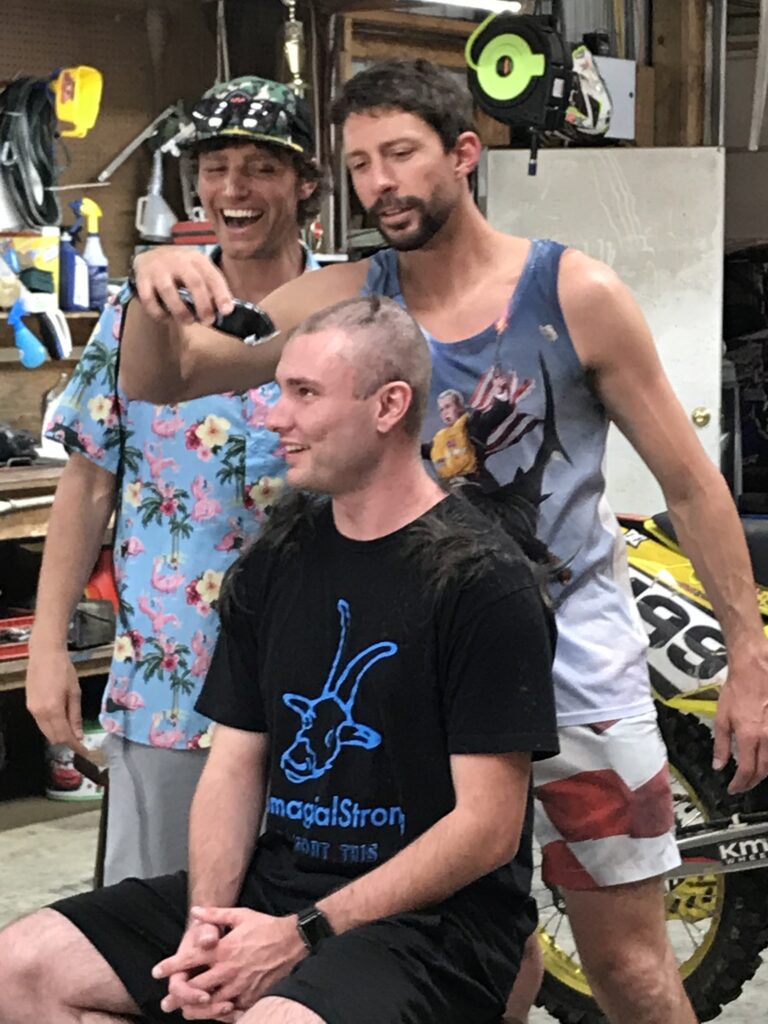 Each Monday of chemo week I needed to have bloodwork done, but through the journey so far I'd already become comfortable being a pin-cushion so that didn't bother me. The schedule of EP for me was set at four 5 day weeks, 4-6 hours a day with 2 weeks off in between each full week.
The first week of chemo was relatively breezy.
I left the first week thinking it wasn't so bad but I had been warned that the effects of chemo compounded. The worst thing I experienced the first week was on day 2 when I was eating and had uncontrollable hiccups. One of the most bizarre remedies I found on the internet worked – drinking water from the opposite side of the cup. It doesn't even sound right but it did work for me.
Someone – whether it was my nurse or oncologist, I don't remember – recommended that I take my prescribed Zofran to prevent hiccups so I started taking that every morning when I woke up and before I went to bed. At some point I developed acid reflux that stuck around for the remainder of treatment. My care team added something to my drugs that would help this but not fully prevent it. My typical work week is Saturday-Wednesday – I finished the week of chemo on Friday and was back to work Monday.
The remaining weeks of chemo all ended up having to be pushed back by one week each time because my white blood cells were too low on the Mondays I had my tests done. Under no one's advice I took it upon myself to pack as much iron into my diet as I could to try to get my counts up. I ended up eating so much iron, my ferritin level (something to do with iron measurement) was three times what it should be.
Week two was very similar to week one, in that I felt like it was relatively a breeze.
I was, though, noticeably more tired and slightly nauseous. I didn't poop for a few days afterward the week. My mom and I would go for walks around the mall so it wasn't too hot just to keep myself moving. I, again, returned to work the week after chemo.
Week three is when it really started to hit me. I was exhausted, the smell of my pee from the chemo and the saline and heparin to flush my port made me extremely nauseous. I'm not sure why that was but I wished it wasn't happening.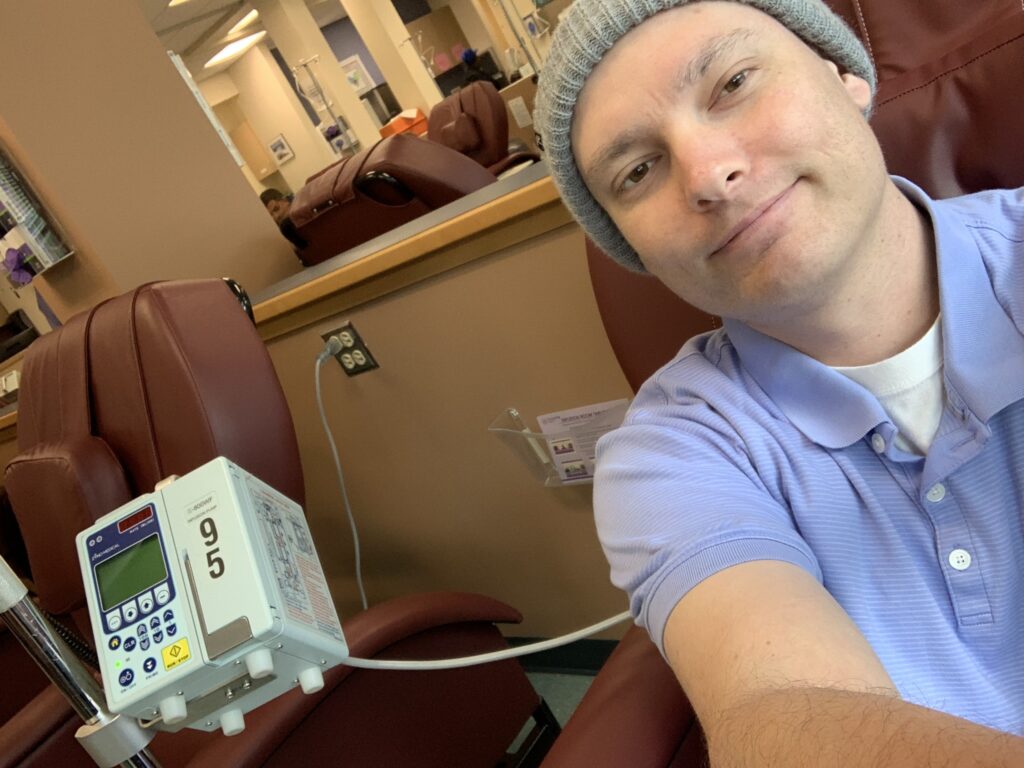 I believe it was week three when they prescribed me a medication that is primarily an antipsychotic that also works for nausea (Compazine). I had one of the side effects that caused me to be super restless. I remember I didn't sleep an entire day despite being exhausted. My legs couldn't help but move and I was getting up and eating popsicles and taking showers just for something to do. I ended up not taking that anymore because that particular feeling of what I described as being trapped in my own body was way worse than nausea.
I worked again the following week but this time I went back on Tuesday or Wednesday. My job is just directing TV news and operating robotic cameras so it isn't very labor-intensive as much as it is cognitive, which I think made it easier in my case. I can't imagine having a job like something in construction because then I think I would have had an entirely different journey.
By week four I was totally beat.
I didn't throw up the whole time throughout chemo until week four. My parents took turns staying with me while the other stayed at their house with the dog every week I had chemo. I remember distinctly standing in my kitchen during week four and reaching for something in the fridge when I felt it coming. I stopped reaching into the fridge, turned around and puked all over the floor. I don't believe I puked again until after chemo ended on October 4, 2019. I was staying at my parents' house then while mine underwent some unexpected repairs and I threw up while watching the MLB postseason games.
A few weeks after chemo ended I had another CT scan that showed the 4cm lymph node had shrunk but only to 2cm. My doctor and a second opinion from Dr. Einhorn recommended I get a Retroperitoneal Lymph Node Dissection (the infamous RPLND) because it hadn't shrunk quite enough. We scheduled my surgery with Dr. Cary at Indiana University for November 7, 2019. I flew out for a consultation on November 5, 2019 where he reassured me that he was only going to remove lymph nodes on one side and use a nerve-sparing technique to prevent me to the best of his ability from having retrograde ejaculation.
I went into surgery that morning surprisingly unbothered.
I knew that Dr. Cary and his team are some of the best in the world at this surgery and there was nothing I could do at this point except lie on the table and let them do the hard work. My surgery was on Thursday and I was out of the hospital and in the hotel on Sunday, flying home Monday.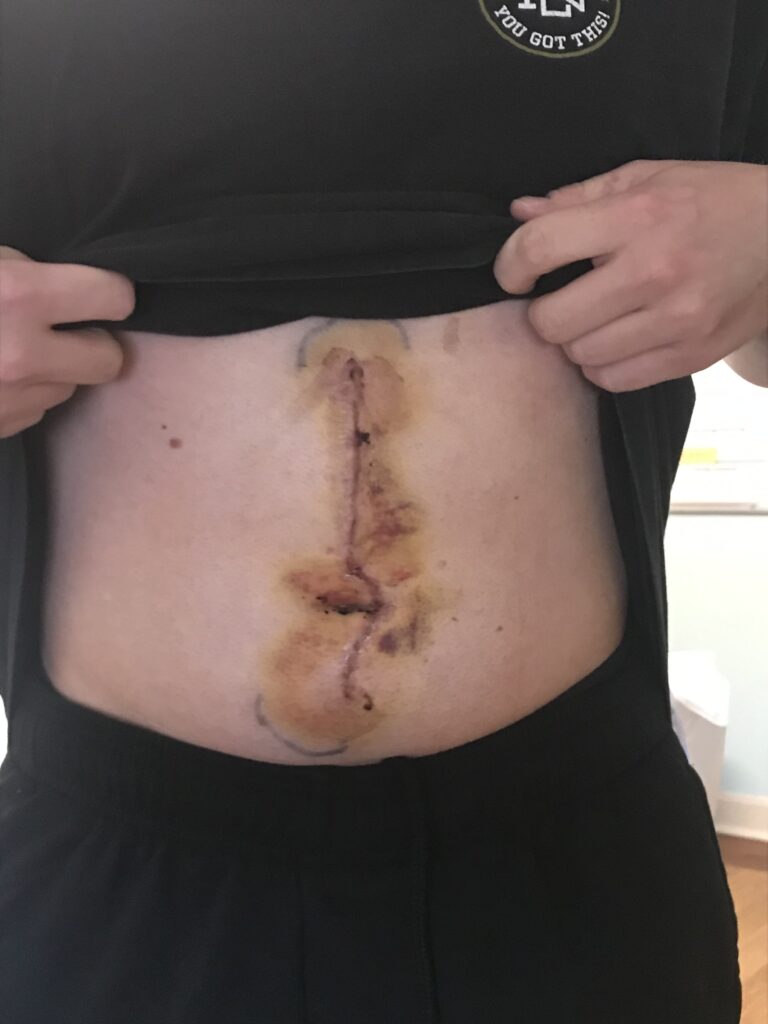 The overall worst part of that particular surgery was the flight home that was a disaster on the part of the airline and weather. I didn't want to take any pain medications other than Advil/Tylenol again but I ended up having to take my Oxycodone because I was having back pain after sitting straight up for longer than anticipated due to flight delays and reroutes. I remained out of work until December 9, 2019. Dr. Cary originally suggested I stay out of work until December 17, but I was getting very bored at home. My recovery had been going well and I was losing my mind at home not able to lift anything over 10lbs.
Overall, I think the worst part of all of this was mental.
The physical pain lasted a relatively short period of time. One of the lingering side effects I have now is the constant paranoia that every little abnormality with my body is a recurrence of cancer. I keep waiting for the other shoe to drop and for my tumor markers to spike again. I have phantom pains in my left testicle area and in my back where I felt the swollen lymph node at the beginning.
I know that there are many patients who have it way worse than me which is why I also deal with some amount of survivor's guilt.
I hope that my journey doesn't discount the journey of others as much as it shows guys who are facing testicular cancer head-on from the beginning that it isn't always a horror story and that there is light at the end of the metaphorical tunnel, and sometimes the tunnel has its own dim lights on the inside making the journey not such a totally dark one.
Throughout my journey, I did a Vlog on YouTube where I shared my experiences. My doctors encouraged me to do that because they felt that I was a good example of what others who may be scared to get checked out could look to and think "Hey that's not so bad."
Be sure to connect with Steven by visiting him at @stevencrocker on all platforms and his podcast "Dumbest in the Room" @dumbestitr. Until next time, Carpe Scrotiem!
Know someone (or even yourself!) who is supporting TC awareness and would be willing to share their story? Drop their name, contact, and why they should be featured into this Google Form and I'll reach out to them and/or you!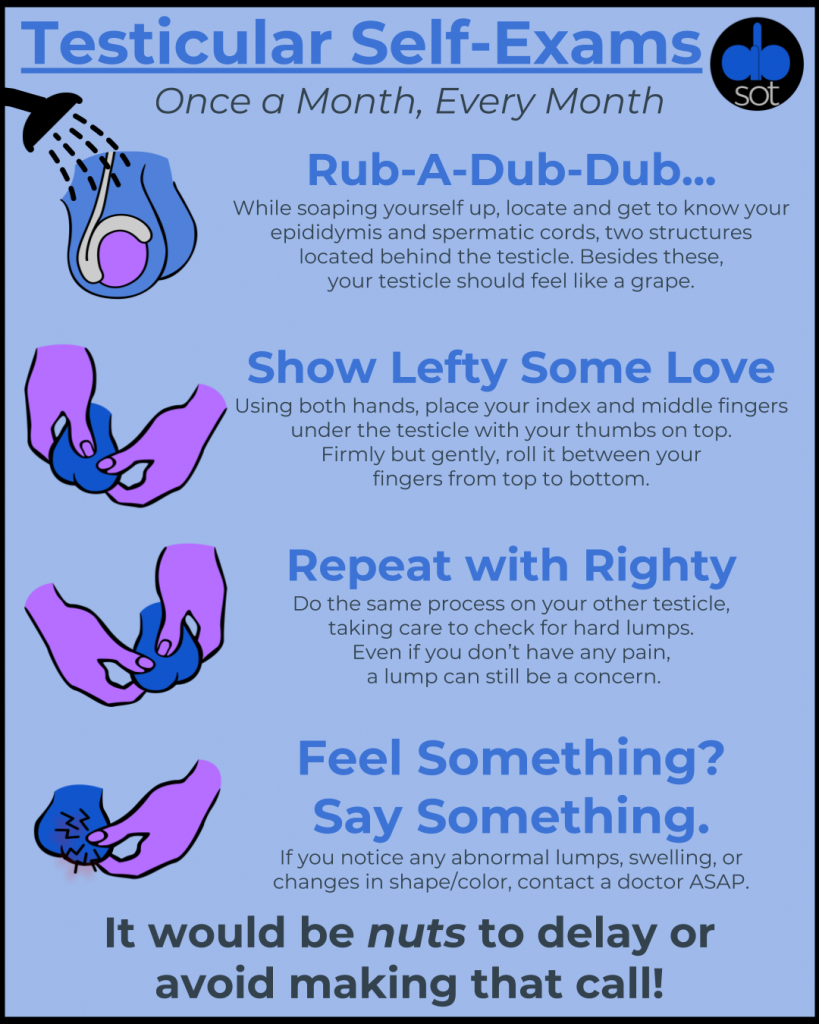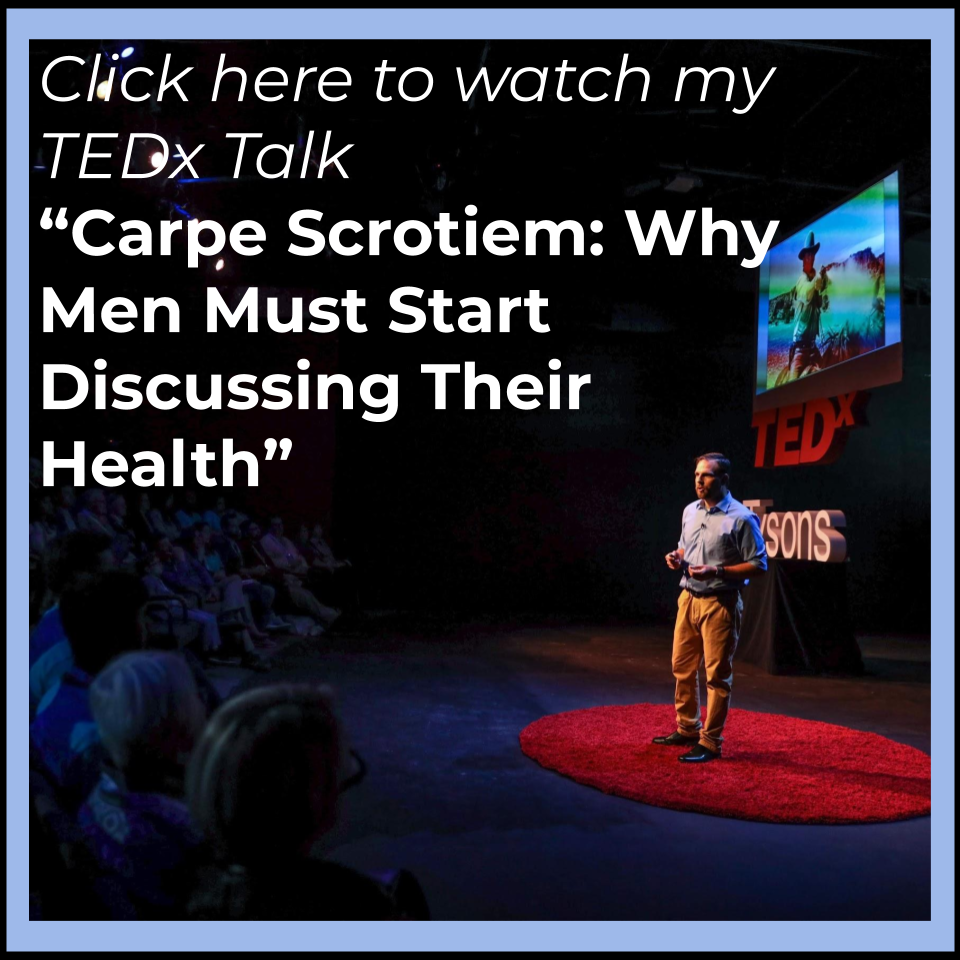 ABSOT is endorsed by the Laughter Arts and Sciences Foundation, a registered 501.c.3 charity. To make a tax-deductible contribution to help continue ABSOT's work with testicular cancer awareness and men's health, click the image below.
February 23, 2021