Alex Bartlett Shares His Journey With Advanced Stage Testicular Cancer
Welcome to the Band of Ballers! In this series on ABSOT, I'm turning over control to some other ballsy testicular cancer survivors and patients who have inspired me with their work in advocacy and awareness during and after their diagnosis. This month's feature is all about Alex Barlett, who recently entered hospice care for advanced stage testicular cancer and his sharing his story widely. Enjoy!
"Young man, you have cancer…"
Now that's one thing that I never thought I'd hear at 24 years old…or…ever, really.
It all began in November 2018, when I traveled home to Pennsylvania to spend the Thanksgiving holiday with my family. Months previously, I had started to notice a slight shift in my health. I was probably at the healthiest I ever was—eating the right foods, exercising, and meditating. But then I began getting tired more easily, coming down with a cold almost every other week, and noticing some lower back pain and a slight cough.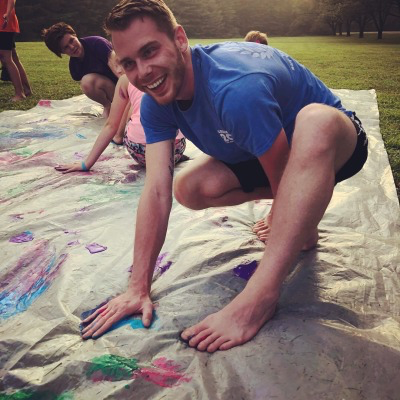 Three days after Thanksgiving, I ended up in the emergency room with excruciating back pain to the point of it being debilitating. The cough seemed to be getting worse and I began to notice blood in my cough. My first thought was, "Maybe I have kidney stones…"
A CT scan was done in the ER and a couple hours later the doctor came in and told me that an "innumerable amount of spots" were seen in my lungs and also throughout my abdomen.
"We think it might be cancer—perhaps lymphoma or a rare type of testicular cancer," he said.
At this point, so many things had started running through my head: "Cancer? How? I'm too young."
The day after going to the emergency room, I went to get an ultrasound on my testicles. Nothing came back out of the ordinary— I had no lumps, no swelling, nothing—but I was still referred to an oncologist for the following week.
I didn't have a week. Two days after the ultrasound, I ended up back in the emergency room. This time I had unbearable back pain, was unable to breath, and very dehydrated. My parents began to worry and took me to Mount Nittany Medical Center in State College, PA.
I was admitted to the hospital and over the next week I would receive tons of fluids, breathing treatments, bloodwork, a biopsy on my lungs, an MRI, and numerous CT scans. By this time, I was unable to breathe on my own and was hooked up to an oxygen tank. After receiving some results, Mount Nittany decided that they did not have enough resources for me and so I was transferred to the ICU at Geisinger Medical Center in Danville, PA.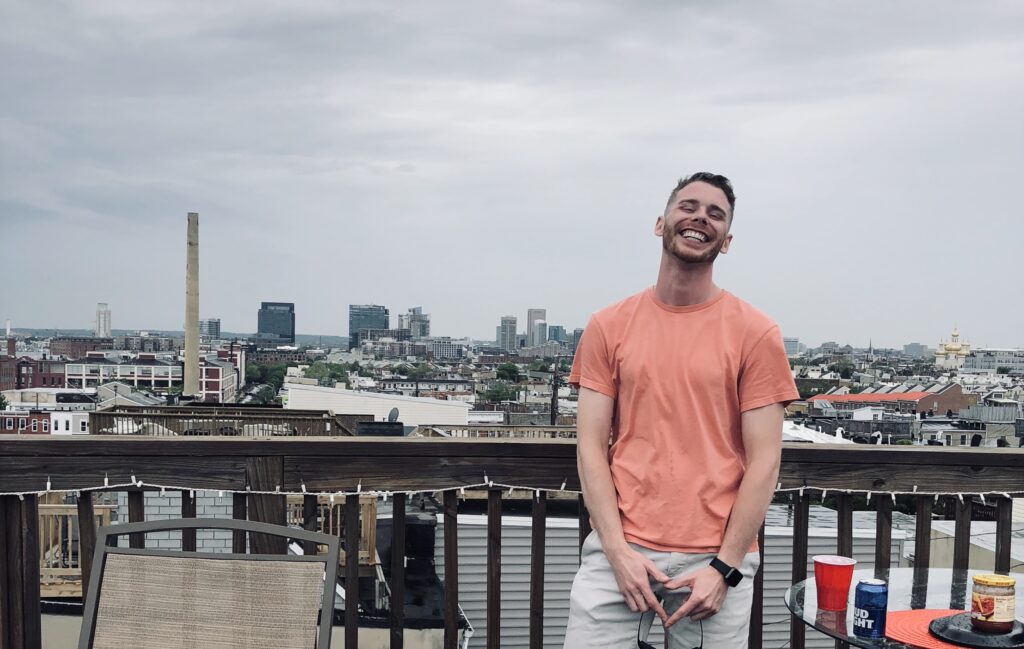 My health had rapidly declined. After four days in the ICU and countless pricks and pokes, I was diagnosed with Stage 4 (3C) testicular choriocarcinoma. The cancer had spread to the lymph nodes in my abdomen and up into about 80% of my lungs.
My Thanksgiving holiday had turned into a nightmare.
At that time, I was living in Baltimore, Maryland, and I needed to decide what to do about treatment. I knew this was life or death at this point and I didn't have time. Do I stay in PA with my family, or go back home to Maryland and seek treatment there? Johns Hopkins is just around the corner. To me, this was a no-brainer, but my family thought otherwise. Ultimately, I decided to go back to Baltimore and try to set up an oncology appointment with an oncologist.
However, once again, I ran out of time and ended up in the emergency room at Johns Hopkins Hospital. Just a week after my diagnosis, I returned to the ER with breathing problems and severe back pain—something that I thought I was able to get under control while at Geisinger in PA. Hopkins admitted me the night I arrived in the emergency room. Two days later, I started chemotherapy.
December 8, 2018: I started my cocktail of three chemo drugs, referred to as VIP, along with various nausea meds and painkillers.
I spent ten days in the hospital, meeting with countless doctors, specialists, and nurses. The oncologists working with me went over my treatment plan and what to expect.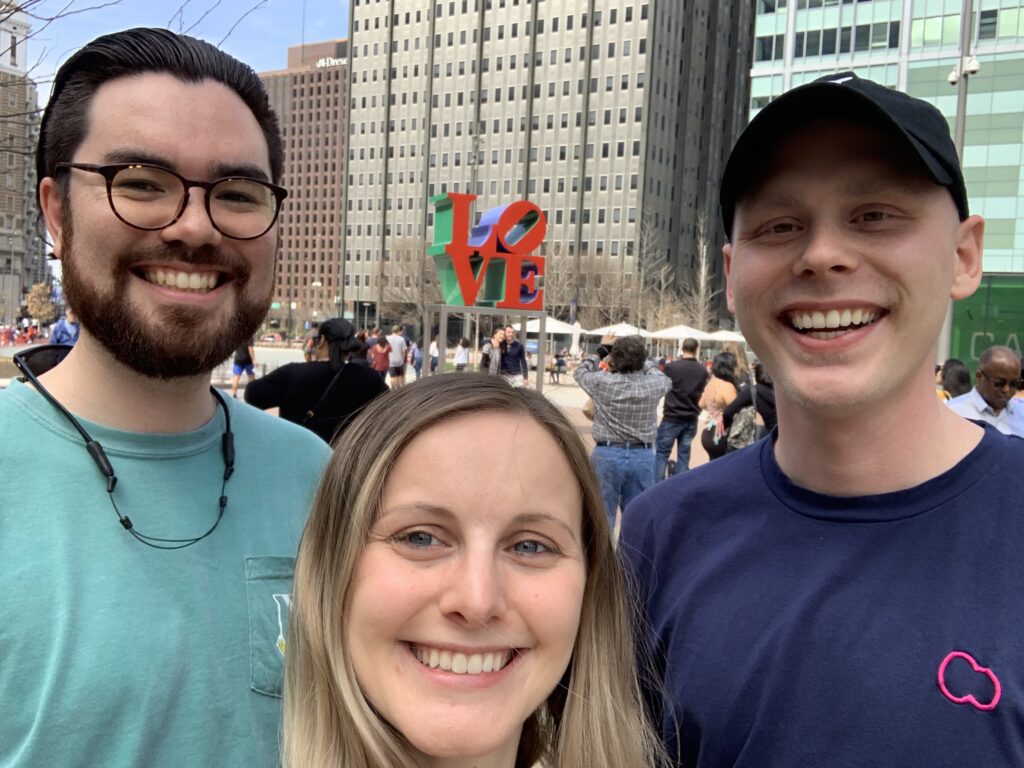 Everything was happening so quickly that I didn't even have time to comprehend it all. My family was back in PA, and I really only had my friends here in Baltimore. I was in denial and I surely didn't know what to do. Over the next four months, I'd receive three more rounds of VIP chemotherapy, each lasting five days per round with about a two week break in between.
My body began to change. My hair fell out, and I was pale and very bloated from all the steroids. I didn't recognize myself anymore. I was literally losing myself in the process. I tried my best to stay positive, trying to see the road ahead, and just enjoy life as normal as possible, despite being tired and weak about 90% of the time. I visited friends, tried to go to different events in the city, and I learned to TOTALLY rocked the bald look.
Just after my first round of chemo, I went in for a right radical orchiectomy to remove the affected testicle.
The doctors were able to determine that the cancer had developed in my right testicle, metastasized to my lungs and lymph nodes, and had literally "burned out," leaving only but a small scarring on the tissue. This explained why I didn't have a lump, or pain, or swelling—the cancer had literally burned itself out. My body was able to fight it off, but at that point it was too late. This was a rare occurrence, to say the least—almost as rare as even developing testicular cancer in the first place.
I finished chemotherapy at the end of February 2019, but I wasn't out of the woods just yet. Although my bloodwork showed improvement and my lungs were clearing up (which meant the treatment was working), I still was showing inflamed lymph nodes and a tumor about the size of a grapefruit in my abdomen.
On April 2, 2019 I had a retroperitoneal lymph node dissection, also known as RPLND.
54 lymph nodes were removed from my abdomen, as well as the teratoma by my abdomen.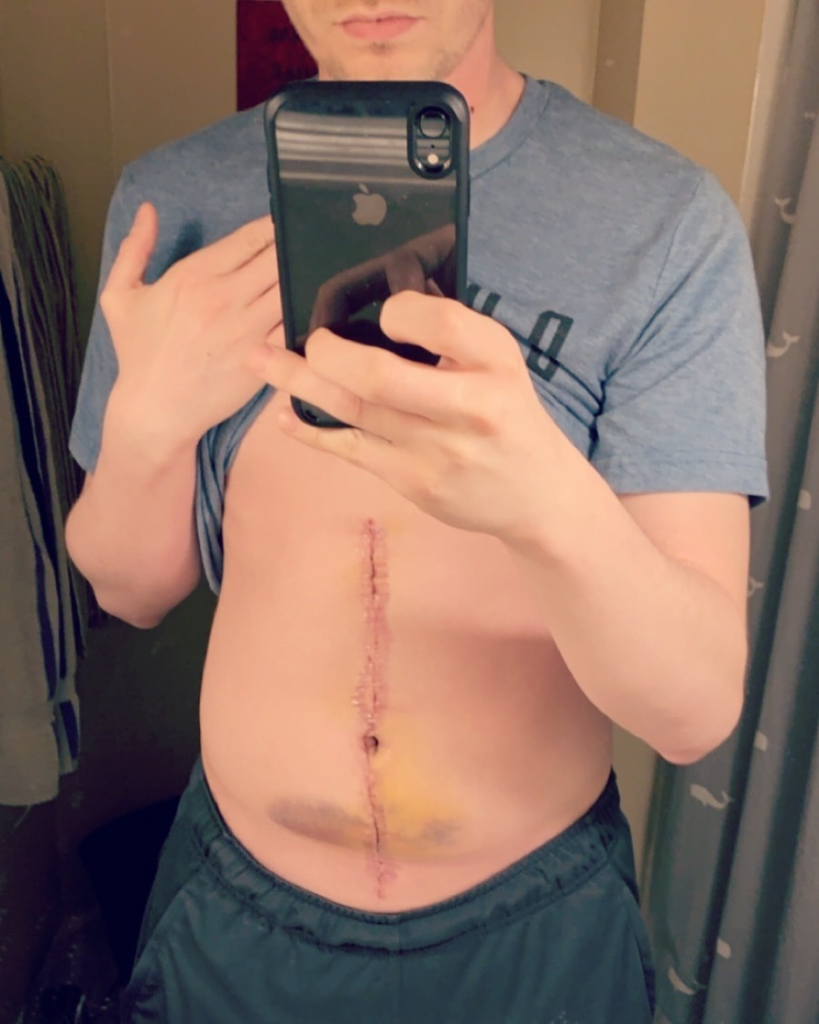 For the next six months, I began to bounce back. Tumor markers were still falling, lung mets were shrinking. It seemed everything was going my way and everything was FINALLY beginning to fall back into place. I went on a vacation to see a fellow Fraternity Brother, Landon, who now lives in Arizona now and is working his way to becoming a dentist at Midwestern. It was such a blast (and was exactly what I needed after all I had been through).
I finally returned to work after being out for almost 8 months. I started getting healthy again. My color was back, my hair was back, my confidence was finally back to life. I joined a kickboxing gym to kick my ass back into shape and really get out some stress. Everything was falling into place.
On December 13, 2019– Friday the 13th (which happens to be my not-so lucky number), I went to my two month follow up with the oncologist. As per usual, I went through the CT scans and blood work routine. The CT came back really good: lung mets still shrinking and there was no sign of anything new.
Something was off though.
My tumor markers were rising out of nowhere. These tests easily fluctuate so we decided to keep a close watch. Everything else was still in normal range, so what could be so bad? The plan was to then meet back with him in February. I didn't worry too much. The holidays were coming up and I wanted to focus on work and family.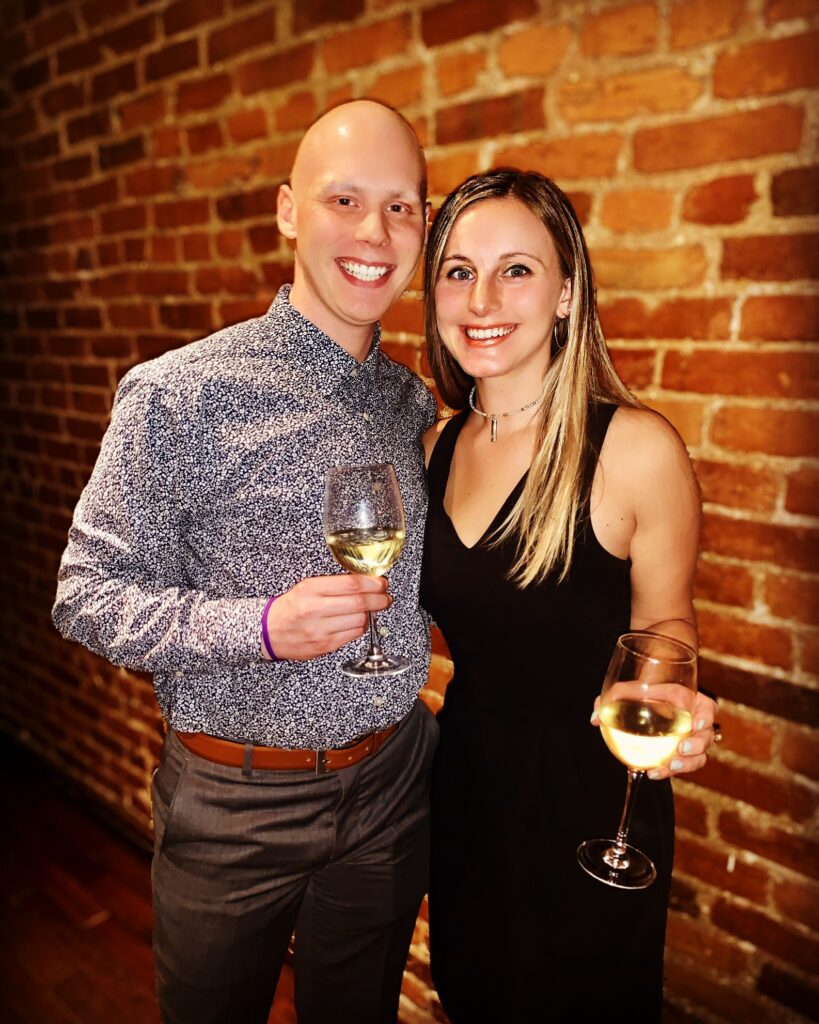 On December 31, 2019, a few friends were coming into town for New Year's Eve. I was BEYOND excited to bring in the new year with them. After the crazy, up and down year that I had already had, it was a necessity, and not merely an option.
My day started out normal like every other morning: coffee, news, time to hit the gym. I decided to go to the 6 am class because I wanted to get in one final kickboxing workout for the year and still have time to get things ready for the night.
Towards the end of class, I became very disoriented that I couldn't focus on the trainer. I took a quick water break but then I collapsed. As I laid on the floor, I had a seizure. An ambulance was called and yet again, I was rushed to the ER. I remember being asked a bunch of questions— "What's your birthday? What year was it? Who is the President?" A CT and an MRI were done and a tumor measuring 2.5cm in diameter was found, located in the left parietal lobe.
The tumor was very superficial, but it was still there…
WHAT was going on?! At that point, they weren't going to let me go home. They thought it was in my best interest to get it removed… that same day, right then and there. I asked to be transferred to JH where I've been under their care for the last year. I got in touch with my doctor and he put in a request. I called my mom and then my friends that were coming for the night what was going on.
My day had been ruined. My NYE plans were thrown out the window. I felt like I left my friends in the dark. I didn't have any answers and no plan. I was helpless. All I knew was that I was going to be spending NYE in the hospital.
My life, yet again, stopped. Stood still. After being admitted to JH for a couple of days as they figured out anti seizure meds and scans, I was now facing brain surgery. We were almost 100% sure the cancer had returned. This time, with vengeance.
A few days later I met with a neurologist for a surgery consultation. On January 12, 2020, I was admitted to Johns Hopkins Bayview for surgery the next day. Everything was happening so quickly, yet again, that I could hardly wrap my head around it.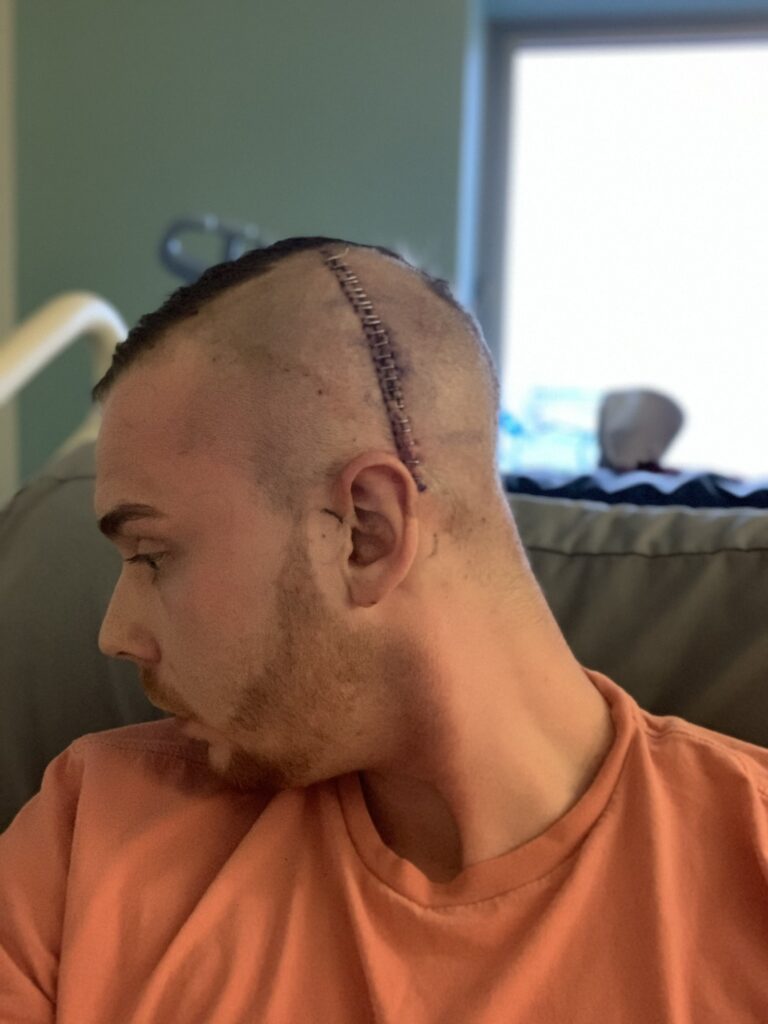 Out like a light, and I was waking up in the ICU, head wrapped and foggy as all hell.
My parents and family patiently waited for me to wake up. "Holy shit, I just had brain surgery," was all I could think. Other than that, I was a lifeless, medicated body, just laying there. The pain was minimal. I just wanted to sleep. The neurosurgeon was thankfully able to remove the whole tumor in one piece. With choriocarcinomas, there is a high risk of bleeding— but luckily, no bleeding or complications during my surgery.
Pathology came back a few days later. Just as we suspected: metastatic choriocarcinoma. It took me a while to take it in. I recovered very well from the surgery and about a couple weeks after surgery, met up with radiation oncology. I had one quick round of gamma knife radiation and a few weeks later, I had more scans done. There was no evidence of the tumors.
Over the next few months I recovered and returned to work mid-April. Unfortunately things don't always go always as planned. The morning I returned to work, I had bloodwork and a chest X-ray scheduled. I was also now back to bloodwork every two weeks. The following week, the oncology called me and told me that my tumor markers were rising again and he was almost certain that the cancer was back again. However, my chest X-ray looked better than ever, so we weren't really sure what was up. He ordered an MRI to be done the next week.
The results did not come as expected.
Four new tumors were found through my brain. The oncology suggested high dose chemo with a stem cell transport. He referred to Dr. Vaughn at Penn Medicine in Philadelphia, PA.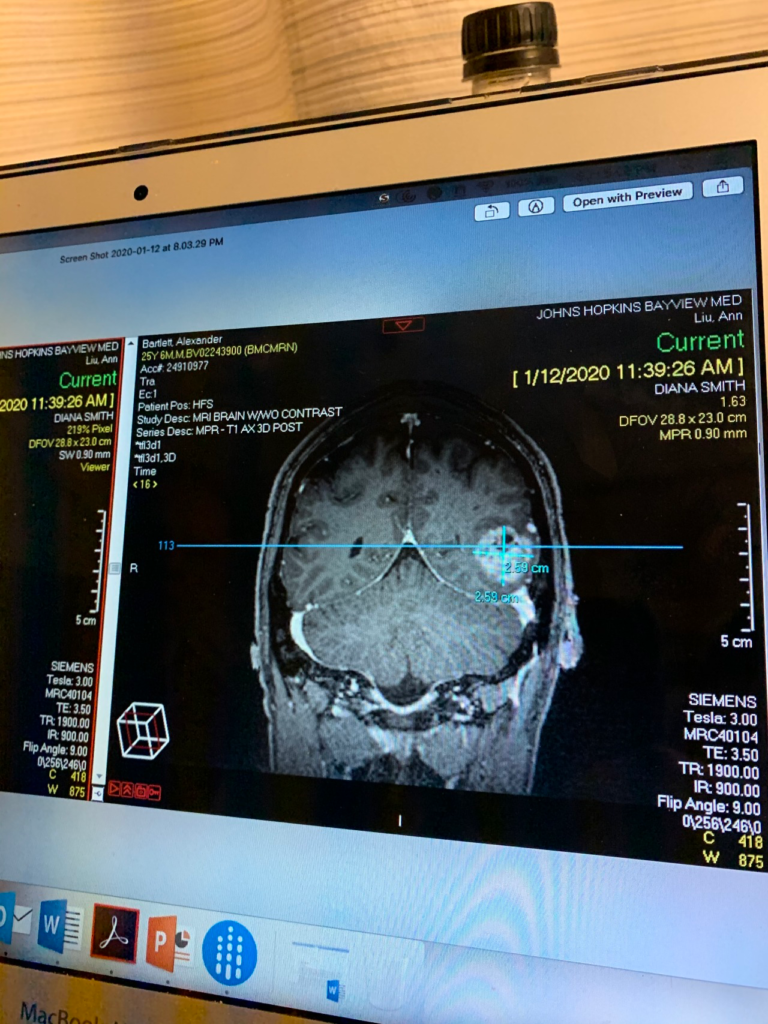 A few days later, I had a consultation with Dr. Vaughn over a video chat. On top of the Coronavirus pandemic, now I was facing this. Two days later I found myself walking into Penn Medicine, about to be pumped with high dose chemo known as TIP, for three days. I would return in a week for three days of stem cell therapy.
Unfortunately, not everything always goes the ways they're planned. I made it through two rounds of chemo and had to stop. About an hour before the third dose of chemo, I became very sick, confused, and lethargic. We have to pause chemo. I thought I may have been having a seizure and so they took me for an MRI. The tumors had grown even more and there was some bleeding from one of the tumors. My world froze.
At this point I had to make some pivotal decisions. It surely didn't help that the "chemo brain" had already begun and my brain was foggy. The oncology teams met with me and we discussed the next options. There was really only one options though. Chemo has failed me. The doctors told me point blank that we couldn't continue; that I probably wouldn't have made it over the night.
All of a sudden we were talking about returning to Baltimore and then starting home hospice.
I don't remember much after this— it has all been a blur. I spent a few more days at Penn Medicine, meeting with various doctors and social workers. I was not in good shape. I was signing papers left and right. From DNRs to discharge papers. My parents couldn't even come into the hospital due to COVID. My nurses had to get permission from the hospital administrators just for her to enter the hospital and be with me and help me make these important decisions.
I was released from the hospital and we were on our way back to Baltimore to gather my essentials from my apartment and then head back to PA. At some point (sooner rather than later,) I will need to return to clear out my apartment and move everything back to PA.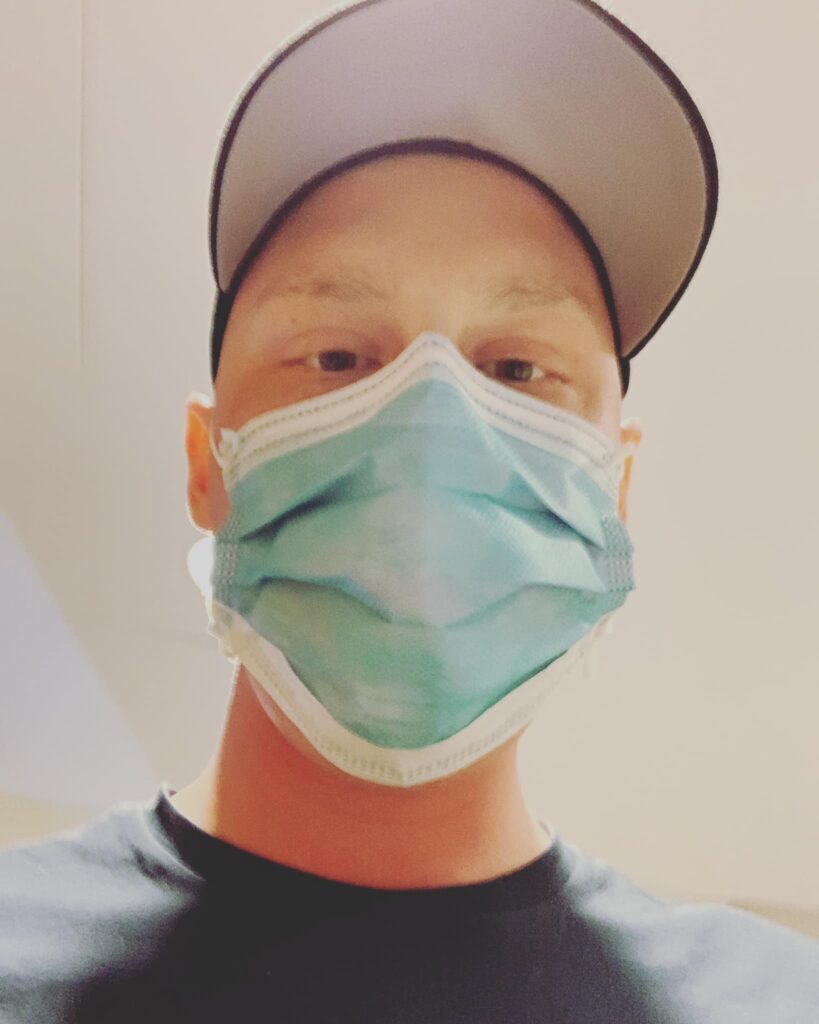 I met with hospice the day after returning back to PA with my parents, trying to live my days to the fullest— trying to occupy myself to keep my mind off of the worst thoughts. We don't know the timeline, and I really didn't ask.
I've decided to cancel all future scans and bloodwork. As you can imagine, it's been hard to wrap my head around it, but I'm learning to accept it. I don't like to say I've been given up yet though. I've just run out of options… and unfortunately that's just the way it is.
Cancer will forever change my life.
I was 24 when this started, and now just recently turned 26 on June 13th. I graduated college in 2017 and a month later moved to Maryland. I had just received a promotion at work and things were looking so bright in my career. I told myself this wasn't going to stop me and I would fight as much as I can and much as I can.
It's a fight or flight situation. And I refused to fly for so long. My body decided to go to war with itself and I wasn't going to lose that fight. I've had very many bad days… I'd be lying if I said it was easy. There were some days that I was ready to throw the towel in, but I had to remind myself that I wasn't going to let the cancer win.
Listening to music and watching movies helped. I did a lot of laying around because I would get so tired from chemo. I luckily didn't get physically sick from treatment like many would imagine, but even just going for a walk has helped me at least attempt to get back some kind of normalcy.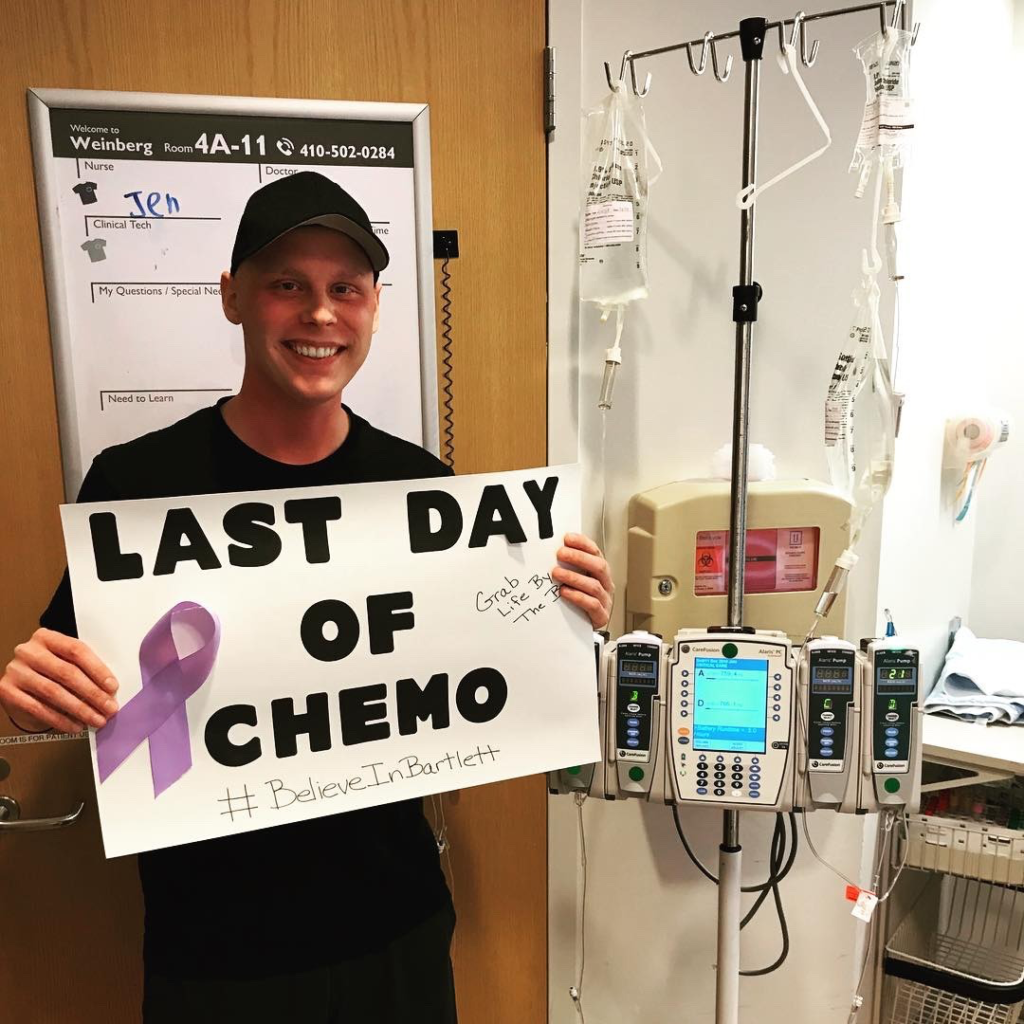 Living with stage 4 cancer at 26 years old surely wasn't my plan.
But I have to learn to live with it and keep fighting. Cancer doesn't just affect yourself. It affects everyone around you. The battle will continue on until ultimately it takes my life.
The end is unknown. I'm refusing to lay in bed all and sulk. I'm doing the best I can, while I still can and when the time comes, I think I'll know, but that time isn't just yet.
Be sure to connect with Alex by visiting him at instagram.com/albar__ or https://www.facebook.com/alexanderbartlett. Until next time, Carpe Scrotiem!
Update from Justin:
It is with a heavy heart that I update this post to reflect of Alex's passing on June 30, 2020. Though we only "met" a few weeks ago during the collaboration on this story, I could tell that he was an incredible guy. He will be missed.
Thank you, Alex, for sharing your story with the world and me.
Another Update:
In April 2021, one of Alex's close friends in college, Landon, reached out to provide me with an update to Alex's story. After his passing at the age of 26, Landon and a group of friends. created an endowment in his name to continue his positivity and joy of helping others. The endowment plans provide scholarships to local HS students and collegiate grants to undergraduate students for holding Testicular Cancer Awareness events. If you want any more information check out tinyurl.com/alexwell.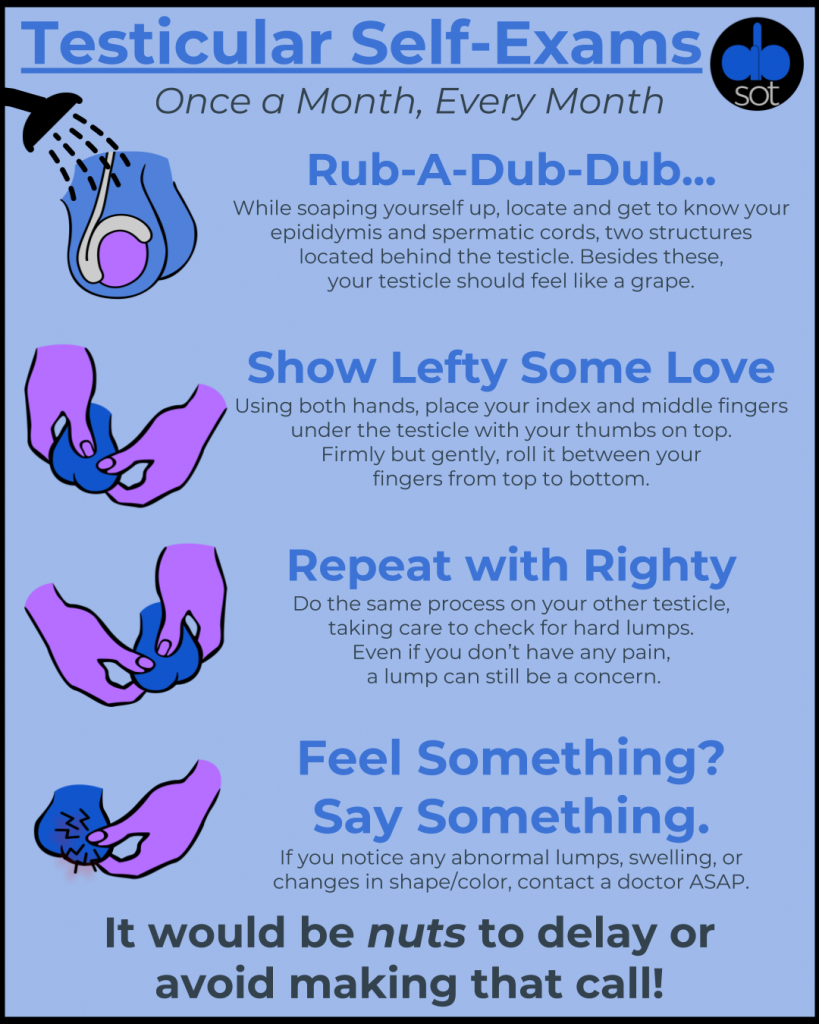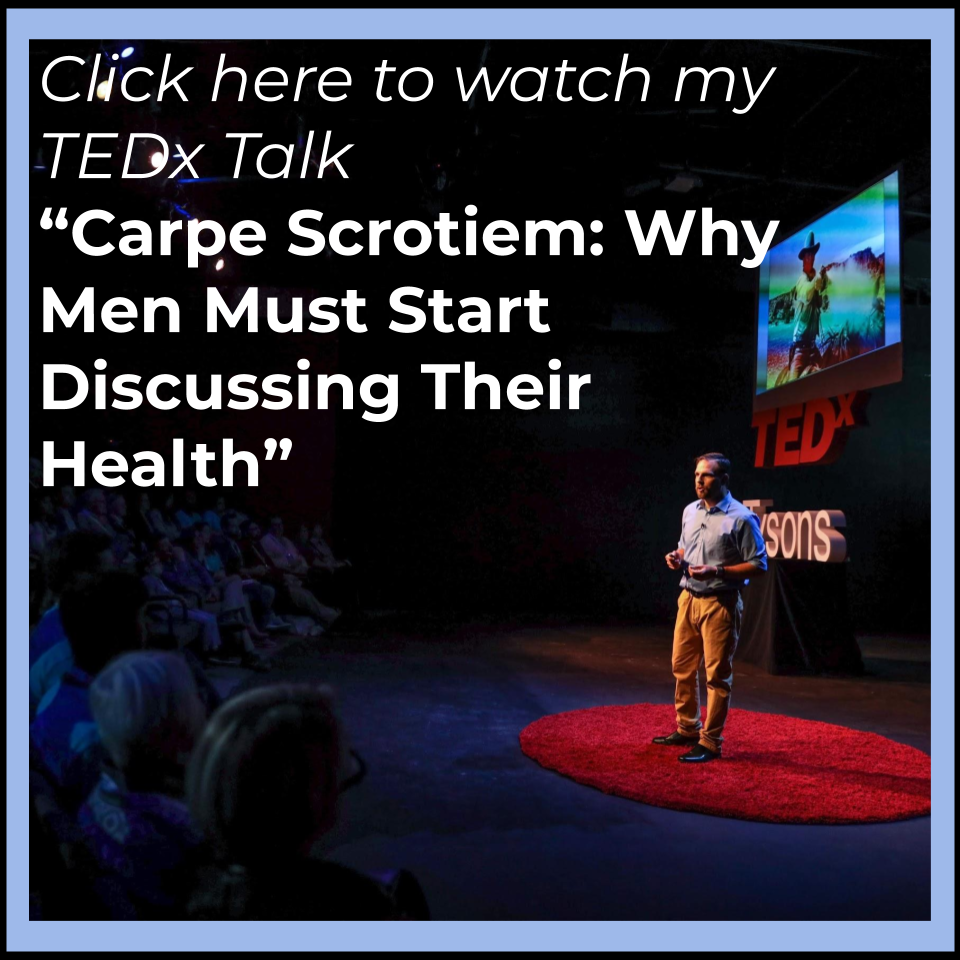 ABSOT is endorsed by the Laughter Arts and Sciences Foundation, a registered 501.c.3 charity. To make a tax-deductible contribution to help continue ABSOT's work with testicular cancer awareness and men's health, click the image below.
June 13, 2020