Joseph Marino Proves That It OnlyTakes1
Welcome to the Band of Ballers! In this series on ABSOT, I'm turning over control to some other ballsy testicular cancer survivors and patients who have inspired me with their work in advocacy and awareness during and after their diagnosis. This month's feature is all about Joseph Marino, who founded OnlyTakes1. Enjoy!
In January of 2004, I was a 17-year-old high school senior. My only worries in the world were surfing, playing guitar, where the next backyard party was, and who's picking me up.
Early one morning before school, I was surfing with a group of friends at Torrance Beach. I was on the surf team and this allowed me to surf for my first period and actually get a grade for it. The waves were decent, the beach wasn't too crowded, and I was counting down the waves until I had to get out of the water and rush to my next class.
I remember taking my last wave, making a turn, and then slipping off my board. Well, that little slip flipped the board sideways and hit me directly in my nuts. Not fun… and the gut dropping pain told me it was time to go to school.
A few days later, I was at the doctor's office for a sinus infection – a common occurrence from surfing and staying out late. But I remember my testicles still hurt, even more so in my left one. At the end of the appointment, my doctor asked "Well, anything else I can do for you?" I swallowed my pride, and asked him to take a gander at my testicle.
After about five seconds of examining my left testicle, I was immediately referred to a specialist upstairs.
I remember getting in the elevator thinking, "Great, now someone else has to feel my balls."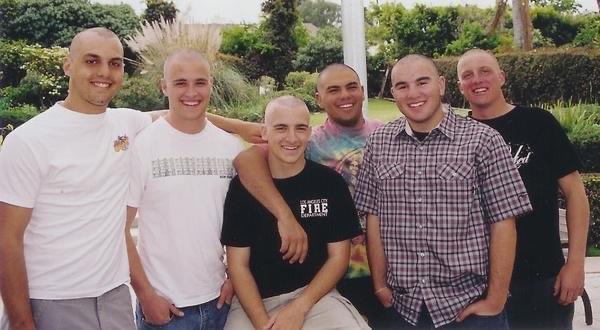 I exited the elevator and checked in. The door to the waiting room opened and the doctor greeted me. After a quick exam, he told me to call my parents. A quick call to my house and a bunch of questions I couldn't answer, my dad was on his way. The doctor's office was interesting. From what I can recall… It wasn't like your general practitioner's office. It felt different. And everyone was serious.
About twenty minutes later, my Dad showed up. I remember hearing him check in with the receptionist and then walk to the office that the doctor and I were sitting in. He had this blank look on his face, but didn't say much. That's when the doctor dropped the bomb.
"I am pretty sure your son has testicular cancer. I would like to operate tomorrow to remove the left testicle. You are welcome to a second opinion but I am very confident, even without blood work or an ultrasound."
It was unreal. It was a blur. The words echoed. I don't even remember leaving that office.
Two days later, my parents and I were sitting in the waiting room at the Urology Center at UCLA Medical Center in Westwood. This place looked and felt different. It felt cold and sterile, but the huge waiting room had large couches and armchairs.
After some blood work and an ultrasound, we were finally called back. We met with a doctor by the name of Dr.. Mark Litwin, a veteran and master of his craft. This guy was it – strictly business, but also a testicular cancer survivor himself, diagnosed at 18.
Dr. Litwin said, "Today is Wednesday. I'm giving you tomorrow to think about this and digest it, but I will see you Friday morning, we're going to take it out. Ok? See you Friday. It's going to be ok,"
Friday morning came quick. I remember sitting in the back of my Mom's car, my parents in the front seat. Quiet. Pre-op was the usual. Cold. Quiet. Gown. Hair net thing. Dr. Litwin met with me, went over the procedure, but then asked if I ever considered a prosthetic. I laughed and remember telling him "No, that's false advertisement". He laughed and said he'll see me inside. I remember laying there on the table, feeling the really good drugs they pushed, and there was Dr. Litwin asking me if I changed my mind about the prosthetic.
"Sure, let's do it."
Waking up after this surgery is weird.
You feel fine, mobility wise. It's nothing like knee surgery, or getting your tonsils removed. You just can't laugh or you'll be reminded that there's a stitched hole in your abdomen. I was in a daze. A fog. I remember Dr.. Litwin checking up on me, my parents standing there at my bedside. Then I remember hearing the doctor say, "It's definitely cancer. We just have to find out what type. Pathology will take about nine days."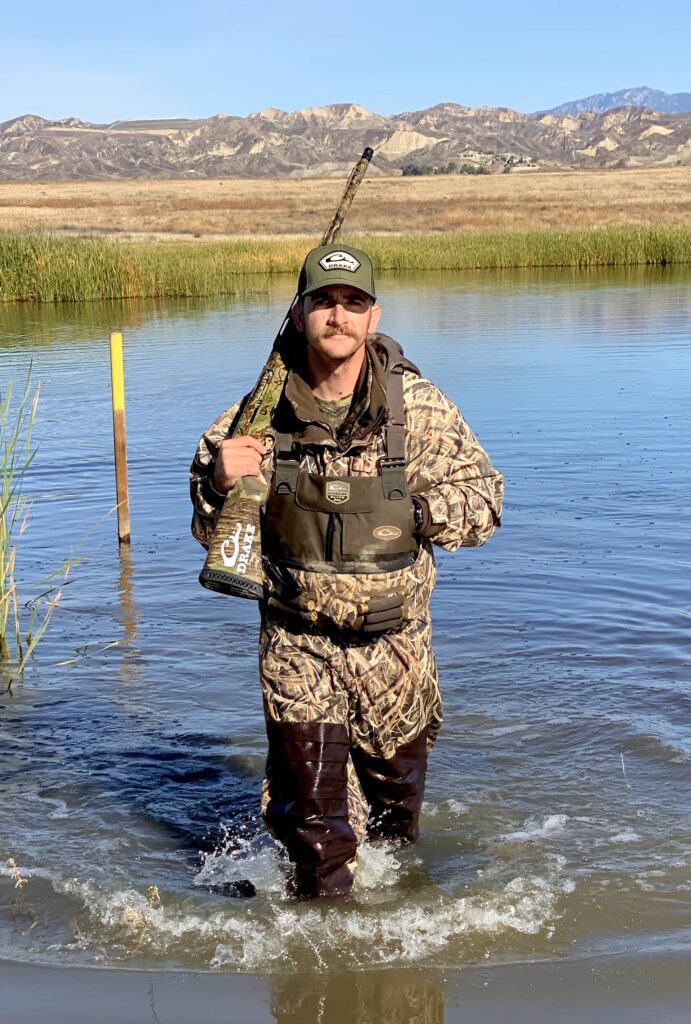 They loaded me up in the car and sent me home. I was given crutches but was up and moving within a day or two. Then one day, the phone rang. It was Wednesday, only four days since my surgery. It was Dr. Litwin. He said, "It's nonseminoma testicular cancer, and you'll be meeting with an Oncologist on Monday. You'll be in good hands".
Monday morning there we were at UCLA again. This time we were in the oncology center waiting room, complete with big couches, music, bandanas and beanies covering bald heads. A lot of people were sleeping and some were unable to even sit up. More blood was taken. Then we went to our own room to hear what the next year was going to be like…
That's when Dr. Robert Figlin walked in.
Dr. Figlin is the type of doctor that you would want to go to war with. And that's what this was – a war against this shit in my body. He reminded me of a commanding officer, a general in the army. It was his team, his program, and his rules… exactly the guy I wanted to be in charge. This guy was strictly business. Figlin spelled it out for me – he told me to stick to his plan and not to deviate. While we had tons of questions he always said, "We will cross that bridge when we get to it, focus on today". He ordered a CT scan and a PET scan. And more blood.
The CT scan revealed I had spots in both of my lungs. While the cancer had skipped the traditional lymph node route, it populated my lungs. Chemotherapy was ordered, 4 rounds of BEP (Bleomycin, Etoposide, Cisplatin).
For 8 hrs a day, 1 week on 2 weeks off, I sat and watched as nurses pushed the drugs. IV bag after IV bag, the chirp of the IV pumps was heard up and down the ward. The place was eerie. Chemo is weird. Some people look like they're on their last breath while others sit and play cards or watch TV with family.
For me, I didn't have any side effects. My hair was gone but I didn't care. I did this routine for 4 rounds. I eventually learned that a quick Benadryl IV push allowed me to sleep through most of the day. Still, walking out of there knowing that I'd be back tomorrow just sucked.
On May 25th 2004, Dr. Figlin met with us. He looked at me and said, "That's it. You're done."
I don't recall much from that last day. I remember hugging my nurses who watched me for 3 months but that's it.
The remission plan was in full effect. Monthly CT scans with blood work and visits to the doctor consumed my life. Just when you think you're over it… another appointment. These soon changed to every other month, then quarterly, biannually, then once a year by year five.
Dr. Figlin switched hospitals and I followed him. Then he switched again and so did I. From UCLA to City of Hope and now Cedar Sinai, I didn't want to see or trust any other doctor.
To this day, 16 years later, I still see Dr. Figlin annually for a check up involving blood work and chest X-ray. I don't have to. He even said I don't need to drive all the way up to Beverly Hills. But I'm not sure why I do. Maybe it just serves as a reminder. It's funny, really. Every time I sit in that waiting room with a full head of hair I think to myself, "I must look like the new guy".
I think about my diagnosis and treatment just about everyday. Some advice I received when I was first diagnosed… "You have cancer, but cancer doesn't have you."
Since beating testicular cancer, I have been fortunate enough to share my story and connect with guys across the country. That's the crazy thing about social media…
I started a small group called OnlyTakes1.
It's a little joke about losing a nut. We've reached out to men across the globe providing answers to those weird questions you don't want to ask a doctor or spouse… Kind of the whole "Hey is this normal?".
Every now and then I'll get that call or text or email saying, "I have this friend. Would you mind talking to him?" and that's how it starts. I have been fortunate enough to meet some lifelong friends. Our whole premise is to connect, pay it forward, and for those affected to know that no one fights alone. Sometimes a text is all it takes to get someone through that tough day.
What these guys don't realize is that helping them through their treatment, helps me with mine today. The thought of a second diagnosis or reoccurrence cancer haunts everyone, myself included.
Here's the thing. I was diagnosed with Stage 3c nonseminoma testicular cancer at the age of 17. I was completely asymptomatic, and it was discovered by a surfing accident. While this cancer is nearing a 100% cure rate, it's not preventable and cancer doesn't discriminate. Having cancer is like being a part of a club. A real shitty club that no one wants to be a part of.
But once you're in- you're in it for life. You look at things differently. You are different. And I'm ok with that.
Be sure to connect with Joseph by visiting him at http://instagram.com/Jmarino86. Until next time, Carpe Scrotiem!
Know someone (or even yourself!) who is supporting TC awareness and would be willing to share their story? Dr.op their name, contact, and why they should be featured into this Google Form and I'll reach out to them and/or you!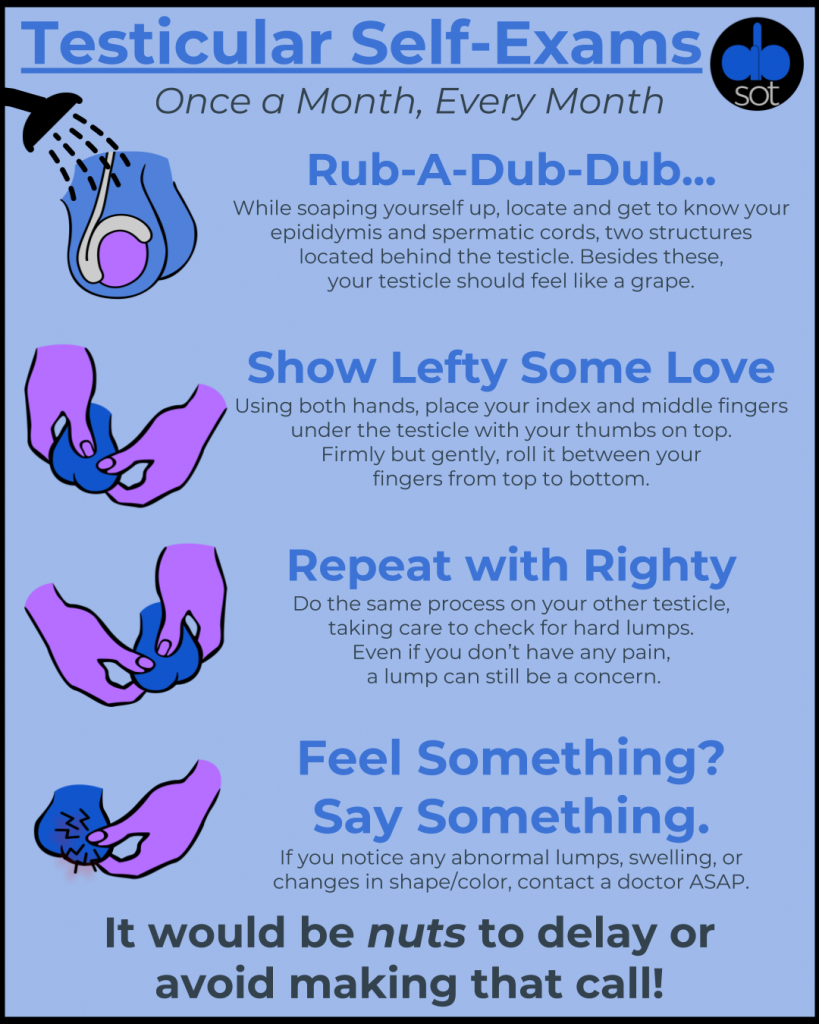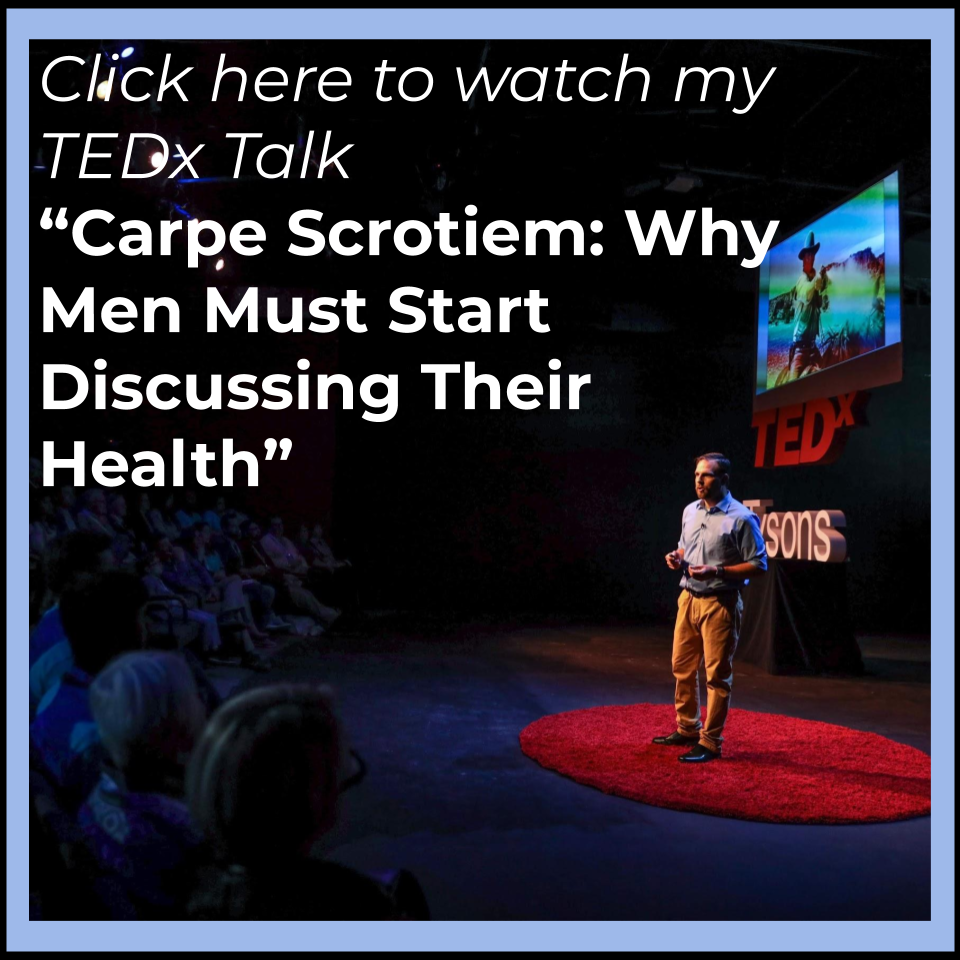 ABSOT is endorsed by the Laughter Arts and Sciences Foundation, a registered 501.c.3 charity. To make a tax-deductible contribution to help continue ABSOT's work with testicular cancer awareness and men's health, click the image below.
August 17, 2020