Tis The Season to Be Jolly… Even as a Testicular Cancer Patient
There is something magical and special about the holiday season. I absolutely love decorating the inside and the outside of my house. (Although Mallory and I differ on our thoughts. She likes to set up before Thanksgiving, but I refuse. I like putting up thousands of lights a la Clark Griswold, while she prefers to keep it under a hundred. You think cancer is a trying time in a relationship – try decorating your first house as an engaged couple.)
I constantly crank Christmas tunes and watch a different Christmas movie each day leading up to the big day. I take ugly sweaters very seriously, and spend hours designing and creating new ones each year. This year, I built a fireplace sweater with 3-D mantle for Mallory and a chestnut roasting on an open fire for me. Seemed appropriate, given that my own chestnut was getting a fair amount of roasting with the various cocktails being pumped into me.
One might think that with my diagnosis, I would despise this time of year. This couldn't be further from the truth. If anything, it has made me love it more. I realize I need to embrace each moment, because the next day isn't always guaranteed.
My depression during the holidays of long ago
My battle with cancer isn't the only history of trying times in the holiday season. Back in high school, I struggled with pretty severe clinical depression. That was my worst medical experience prior to cancer. I was in therapy and on anti-depressants to help and eventually came through a stronger person. (I do think mental health is another stigmatized and under-discussed issue, but that's another topic for another day.)
Author's Note: I ended up tackling some posts about mental health after a successful treatment (spoiler alert).
One of my lowest points during my struggle with depression was around the holidays in 2007. I was angry, sad, apathetic, and just all around down. However, the holidays was something that helped me rally and keep on living. (Ironically, I would realize I was suffering from depression again, post-cancer, ten years after this first episode)
Between cancer and depression, I don't think many would argue with me if I became the Grinch or Scrooge. (I would only be okay with being Scrooge if it was the version from Muppets Christmas Carol – the greatest of all versions.)
But I don't hate the holidays. I continue to love and embrace them – possibly even more so while facing a testicular cancer diagnosis.
My least favorite part of the holidays is the traveling. I love seeing family, but living a few states south of them causes me to be trapped in a car for hours on end. With my white blood cells being in limbo (but on the continued rise), my family came to Mallory and me in Virginia, thus eliminating the only dreaded part of the holidays.
As I shared in Frustration Gone Rogue, my treatment was delayed for a week since my WBC didn't cooperate. As it turns out, not getting my chemo the week before Christmas was a blessing in disguise. After my first week of chemo in Cycle 1, my worst day for side effects was on a Sunday, which would have been on Christmas. Since I didn't have chemo, it meant I wasn't sick at all and could spend lots of time with my family. More importantly, it meant I could eat the turkey dinner that was generously donated by Mallory's PTO.
As for presents, they have been pouring in since my diagnosis (I call these ones cancer gifts) which I greatly appreciate. For Christmas, I received many great things I really wanted, including a cordless drill and other tools for my workshop, a couple of movies, kitchen things, and many other things that chemo brain is preventing me from remembering. My favorite gift was a Flipazoo of a panda that turns into a dragon (otherwise known as a Pandragon) from my little sister. That's right – my favorite gift was a stuffed animal designed for 7 year olds.
After the joy of Christmas, my second round of chemotherapy started on December 27th.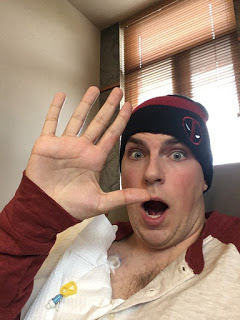 Nurse Amber, subbing for Nurse Jen for the week, had some difficulty accessing my port, but eventually got the needle in and drew blood to run my labs. My white blood cells were well above the minimum target – a full 3.6. I was hooked up to the machine and officially began the second leg of my treatment.
Day one of cycle 2 ended well. I experienced fewer side effects than I did on day one of cycle 1. I even had an appetite for Joe Corbi's for dinner! After being told that my potassium levels were low (because of course we wouldn't want all my levels to be fine), so I had to start eating bananas and spinach to bring them up, in addition to taking two huge supplement pills per day.
The rest of the week continued much like the first week of cycle one (refer to A Dozen Chemo Thoughts for further explanation). I was feeling bloated and crappy by day three and developed a new side effect – uncontrollable hiccups for a day. A more metallic taste developed in my mouth, along with less of a desire to drink water. I slept for a lot of the time to help feel better.
NP Candace had told me that cycle two would have "more" side effects than cycle one. However, it's hard to tell if it was more or just different. I tried to maintain a positive outlook, but I just didn't feel great by the midpoint of the week. It was a stark contrast to the merriment and wonder I had felt just four days prior on Christmas day. However, on the fourth day, I felt much better. I was also now officially halfway done with chemo!
New Year's Eve was different as a testicular cancer patient
Last New Year's Eve, I spent it with Mallory in our first apartment together, steaming up crab legs and enjoying some hard ciders. This year, I spent it in the hospital. This was a totally normal part of my treatment – my normal clinic was closed for New Year's Eve, so I had to go to Mary Washington Hospital.
Hospital chemo is vastly different than clinic chemo, and I am very glad my usual regimen is in the clinic. We checked in around 8 o'clock in the morning, only to find they didn't have my numbing spray for my port. They were able to order more numbing cream, but it was no different than the cream I already had on. My longest day of chemo in the clinic is generally six hours. At the hospital, I was there for ten. They just seemed to be slower in mixing my chemo, administering it, and various nurses and receptionists had to check in on me. Dr. Maurer happened to the the on call doctor, so I got to see him. Rounding out the team was my attending nurse, Erick, who was exceptional.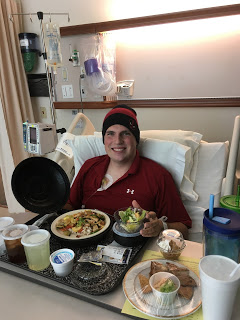 It wasn't necessarily a bad experience.
I got room service as part of my stay. I was served lunch (Asian stir fry with chicken) and luckily was still there when the dinner (chicken alfredo) started. Although it was a long day, it was a nice change of pace. If anything, it made me more appreciative of the great treatment I had in the hands of my nursing staff at my normal clinic.
Finally, around 6 pm, my mom and I arrived back home to celebrate New Year's Eve. Surprisingly, I still had an appetite (which I generally don't by dinner time). I had a steak, expertly seasoned by Mallory and adequately cooked by my mother (the adequate cooking has more to do with that fact that I'm not allowed to have my steaks medium like I prefer due to having to stay healthy). After dinner, I began crashing. I knew I wouldn't make it to midnight, so I took my small pharmacy of pills around 9 pm (now up to a whopping 12 pills per evening) and went to sleep. Sadly, I missed Mariah's spectacular performances.
2017 – The end of a testicular cancer journey and the start of a cancer survivor path?
Twelve hours later, I woke up after possibly the best rest I had since chemo began. It was now 2017, which is going to be a big year. Prior to cancer, 2017 was known as the year Mallory and I were to be married. As of now, barring any complications, we'll be married in July and I am so looking forward to it.
But now, 2017 is more to me. 2017 is the year I beat cancer (hopefully). Despite the pragmatic part of me that is continually reminded that there is a slight chance that my fight with testicular cancer turns into a longer process than expected, I am confident that 2017 is the year I become a survivor.
In 2016, my #oneword was RELAX, which was an acronym that I didn't stick to as much as I was hoping. I'm not doing a one word this year, nor am I doing resolutions (I do really want to get back into shape though. Cancer/chemo has screwed with my body, energy levels, and life in general).
This year, I will live for me, I will live for Mallory, our cat/dog, my friends, and my family, and I will live for spreading testicular cancer awareness.
2017 is my year to live.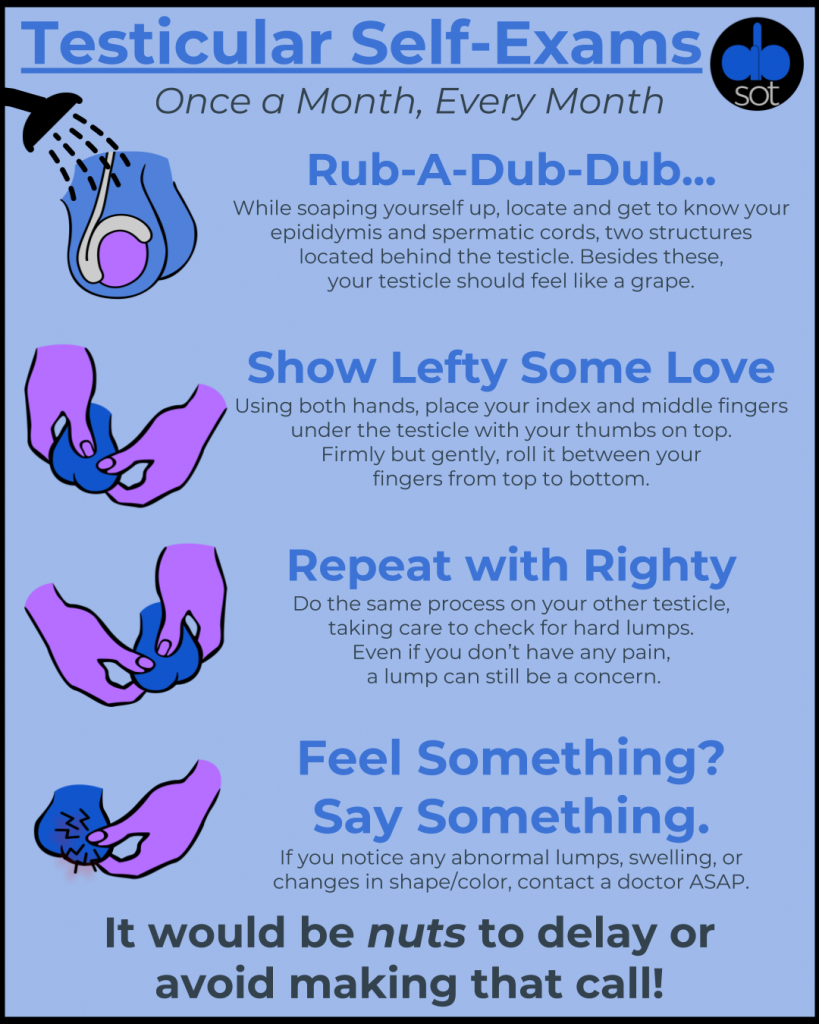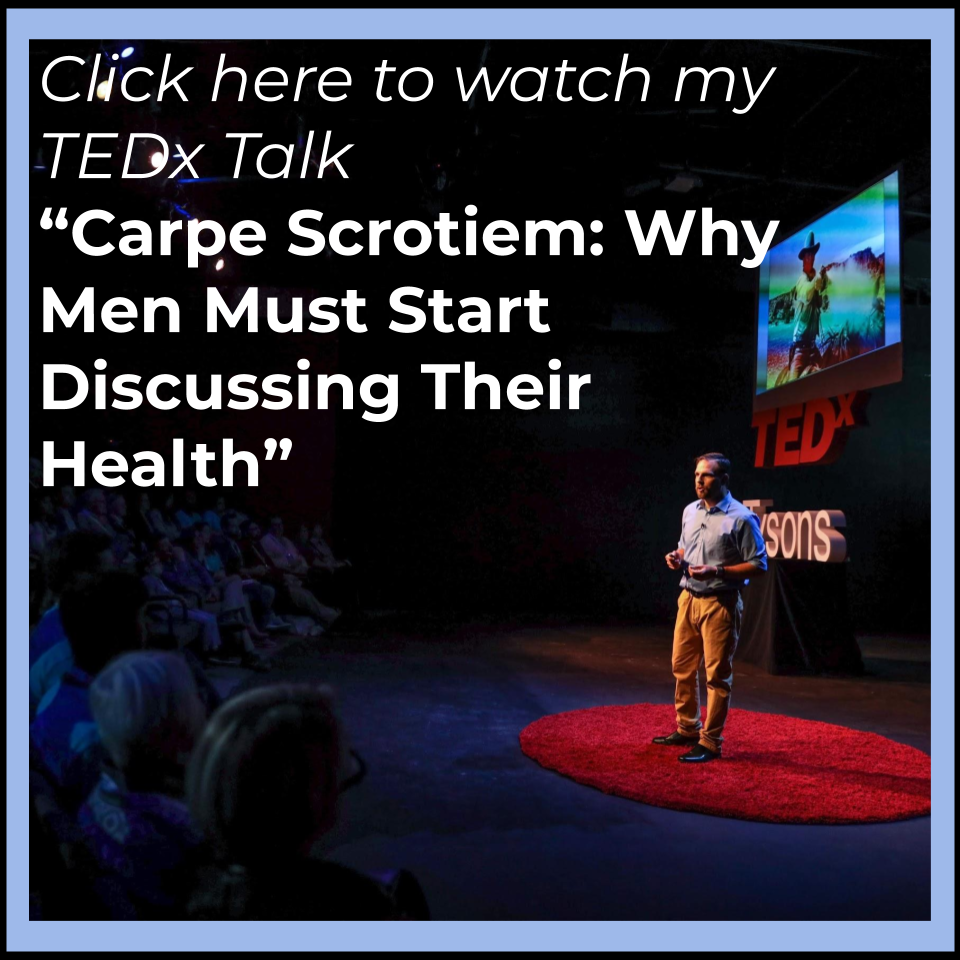 ABSOT is endorsed by the Laughter Arts and Sciences Foundation, a registered 501.c.3 charity. To make a tax-deductible contribution to help continue ABSOT's work with testicular cancer awareness and men's health, click the image below.
January 2, 2017