Shinesty Has Partnered with the Testicular Cancer Foundation to Spread Awareness of Where The Sun Doesn't Shine
While I grew up with the classic tighty whities, I moved into standard boxers when I was a preteen. Ever since I've been a Uniballer, I find that I have a more refined taste when it comes to my underwear choices, becoming a fan of boxer briefs. After all, now I have more room down there. The underwear (and more) company, Shinesty, recently partnered with the Testicular Cancer Foundation. Since I love the TCF and companies that support men's health, I chatted with Molly Kerrigan, the Director of Retention Marketing, to learn more.
ABSOT: What do you do at Shinesty?
I work with our team to try to find creative ways to engage with our customers and build a community of people who love our brand. And then on days when we can't think of ideas for that we just send an email with a 10% discount or something.
Basically, it's my job to show our customers that we just invented a new way for clouds to make love, show the biological process of groundhogs procreating, and communicate any other prints and product releases that our deranged designers come up with.
ABSOT: "Deranged designers" has a nice ring to it. What is Shinesty all about?
Shinesty is all about trying to get the world to take itself less seriously and assure people that it's ok to be weird. Right now we're doing that by selling fun underwear with outrageous designs, but if you can think of a better way to spread our message (that's profitable enough for us to keep our employee healthcare) we're open to suggestions.
Our second, only slightly less important mission, is educating the world that it's pronounced "SHINE-esty" and not "SHI-nasty."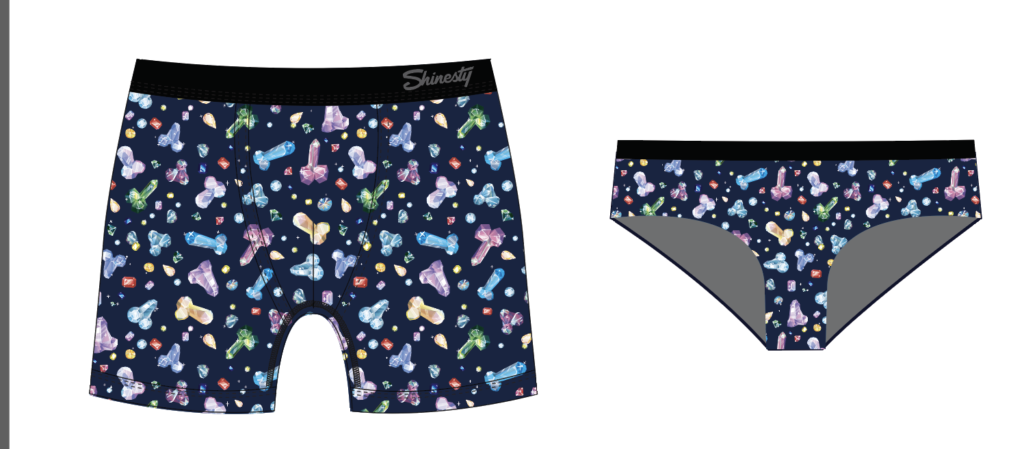 ABSOT: Duly noted. Tell me about your partnership with the Testicular Cancer Foundation.
Our amazing artists have created a hilarious new underwear print to help raise awareness for TCF's mission. We're donating 20% of its sales to the Testicular Cancer Foundation so they can keep doing their important work. Or so they can take a break from their important work and throw a pizza party to raise morale. We trust they'll use the money in whatever way is best. Plus, we're not the type to pass up a dick joke for a great cause.
ABSOT: I mean, who doesn't love a good nut pun. Why did you choose to partner with TCF?
Well, our flagship product is men's Ball Hammock® pouch underwear, which is designed to support, cradle, and pamper your low hanging fruit, so it just made sense for us to team up with another organization that's equally dedicated to looking after your family jewels.
ABSOT: Sounds like a perfect pair… unlike my testicles. What specific things do you hope to do in the future to continue raising awareness?
We sell more than just underwear, so it would be amazing to create an entire fashion line dedicated to supporting the Testicular Cancer Foundation. Or we could do a bikini car wash. Look, I'm just spitballing here.
ABSOT: Sounds like Connor's got some washing to do. Finally, what big message about men's health do you want to share?
Please look after your and your loved one's balls. Check and get checked often. They're vital to your health and vital to our business. We're in this together and frankly I don't want to go back to spinning cotton candy in the back of a coffee shop.
In all seriousness, Men's Health is a serious subject, but we hope our comedic approach has motivated some of you to take the first step and touch yourself down there – for the fight against cancer, of course!
April 19, 2022