Mr. Ballsy Wants to Help You Be on the Ball with Your Testicular Health with his Big Ballsy Comic Series
Welcome to the Band of Ballers! In this series on ABSOT, I'm turning over control to some other ballsy testicular cancer survivors and patients who have inspired me with their work in advocacy and awareness during and after their diagnosis. This month's feature is all about Thomas Cantley aka Mr. Ballsy, who is the creator of Big Ballsy Comics. Enjoy!
My name is Thomas Cantley AKA Mr. Ballsy. In November 2009, it was not all butterflies and rainbows for me. I was at my ultimate low… and you get the ballsy exclusive. I had drug issues and mental health problems. On top of it all, when I thought things couldn't get any worse, I got cancer.
The beginning of my testicular cancer journey
I was so ignorant of my own body and unaware of the signs. Like many guys, I had the classic story of waiting too late. I had some abnormalities in my testicle for over a year but I had no health insurance. To add to it, I was homeless at the time and high as a kite. My testicle was hard, but it didn't hurt and I had no "lump." Out of nowhere I got horrible pains in my lower abdominal that eventually landed me in the ER.
Long story short, a woman found me in a bush, and I ended up in Bellevue Hospital in New York City, where I was later diagnosed with stage 3 testicular cancer. I remember before I went in to surgery my mom said, "Did you know your initials [Thomas Cantley] are same as Testicular Cancer?"
That is the last thing I remembered before going under.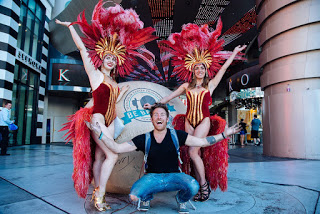 Nine years ago, public knowledge of testicular cancer was not what it is today. Movember and other organizations were still very new back then. I wanted to be unique with my approach after being diagnosed. There were not many individual advocates putting themselves out there, and I wanted to be one of the first to approach it in a ballsy way with edge. I have pushed two giant balls across two countries, Canada and United States, in hopes of raising awareness for testicular cancer.
My goal has been to always inspire men to be more aware of their bodies and be proactive as to not end up like me. My message has always been very vulnerable. I'm committed to stripping down the walls and exposing the men's health connection with as many people as possible. I connect with so many people all over the world. I will never stop answering my phone and responding on social media to help anyone in need, even if it's just lending an ear.
Testicular cancer truly changed my life and saved me.
After my diagnosis and surgery, I realized I had a bigger purpose and second chance at life. Someone out there was telling me that it was not my time yet. I knew then that I needed to dedicate my life to helping people who were in same position as me and hopefully prevent anyone else from going through what I did. I waited too long to take care of my health, and I hope by sharing my story, other men don't make the same mistake.
Nine years later, I'm blessed – I'm all good and cancer free. I was told I wasn't able to have kids and guess what… I had a son and even got a beautiful wife along with the deal. You never know how life will end up or how it will work out… but it always does. You have the power to dictate your destiny and legacy.
My new testicular cancer awareness mission, Big Ballsy Comics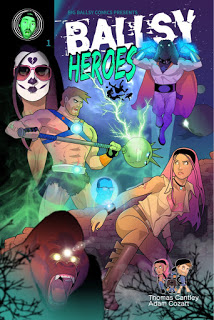 I have partnered up with a talented comic book artist Adam Cozart to create a first-of-its-kind, cancer fighting superhero awareness comic series called Big Ballsy Comics. The main character, Mr Ballsy, is based on my persona with my dog Vader along side Lefty, who is my giant left testicle that comes to life.
One of my main characters, Dr. P, is actually based on the Director of Testicular Cancer at John Hopkins Hospital, Phillip Pierorazio. As Dr. P is the leader, he has recruited cancer survivors to form a ballsy team that fights to stop the cancerous queen from populating the world with cancer and taking over. Only the ballsy heroes can stop her. [Editor's Note: Superheroes and cancer? You know I am all about this!]

My goal for this series is to bring light to a tough subject matter. I also wanted to inspire survivors to channel their diagnosis and use it their advantage and find there unique approach in educating the world about Testicular cancer. Our goal is to distribute internationally at comic conventions, hospitals, and any place that will take it. I figured because of how big the comic world is and the large male demographic, it was a perfect concept to develop to get the message out. We will be launching this summer!
The bottom line is we need to be more proactive as men and listen to our bodies.
It's not just checking for the symptoms that are obvious. You need to make it a point to really know your man junk and notice if anything's different. Being in tune with yourself is key, and if anything appears abnormal, get checked. It's okay to be afraid and even more okay to talk about it. It's super ballsy to go get yourself checked and not be shy about it.
We have to erase the taboo nature of testicles and the fact that people get uncomfortable about the health of their balls. Even if it's a scare, it's better to be on it. You're more of a man if you man up. Your life is the only one you got… be Ballsy about it.
Be sure to connect with Thomas by visiting him on Twitter (@mrballsy) and on Instagram (@mrballsy) and connect with Big Ballsy Comics on Twitter (@BigBallsyComics) and Instagram (@BigBallsyComics) .
Know someone (or even yourself!) who is supporting TC awareness and would be willing to share their story? Drop their name, contact, and why they should be featured into this Google Form and I'll reach out to them and/or you!
Until next time, Carpe Scrotiem!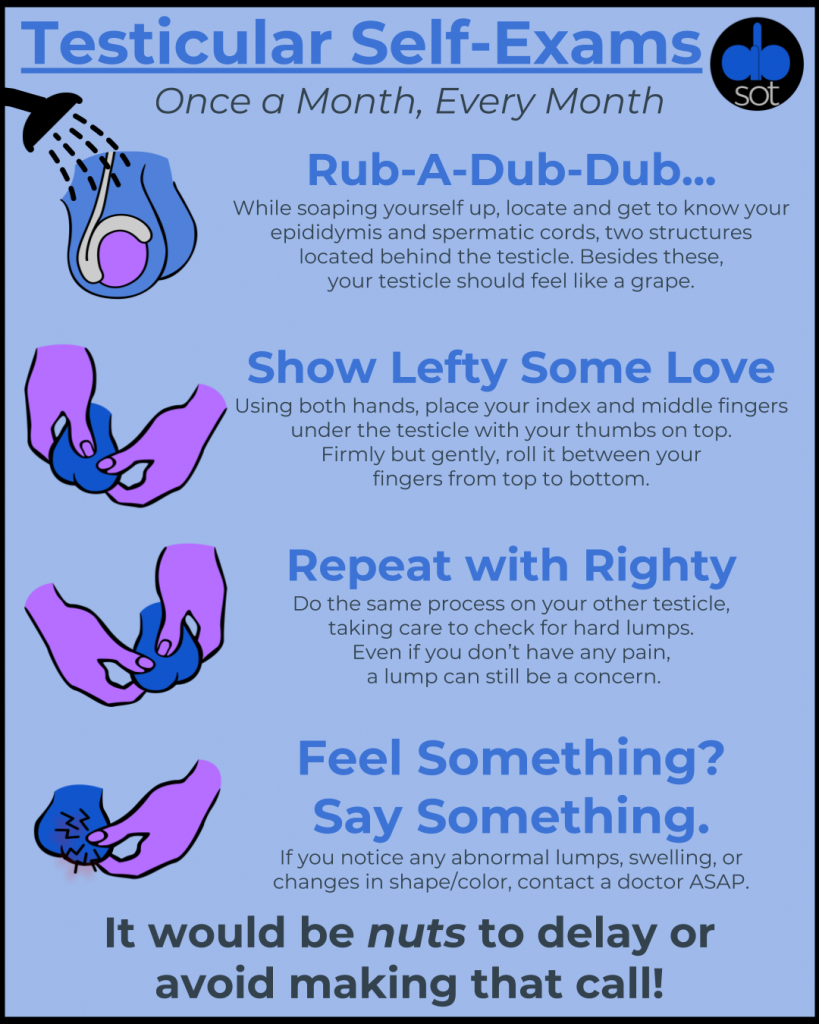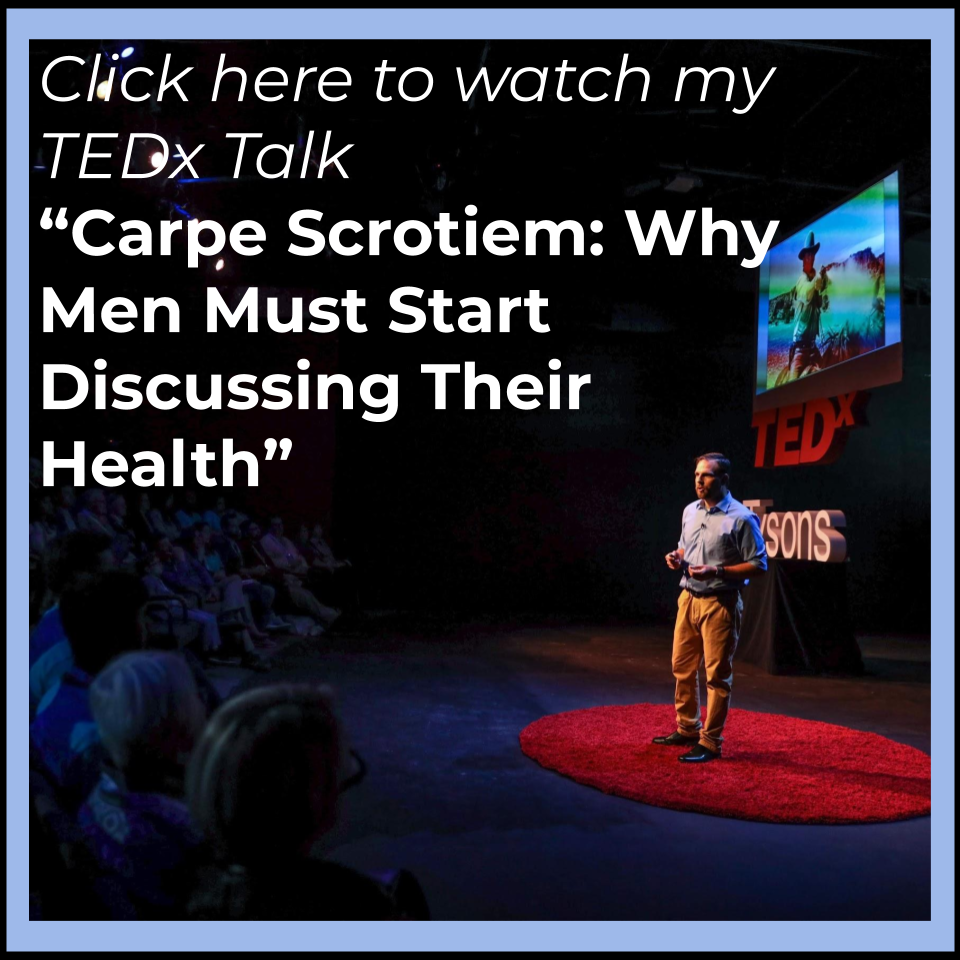 ABSOT is endorsed by the Laughter Arts and Sciences Foundation, a registered 501.c.3 charity. To make a tax-deductible contribution to help continue ABSOT's work with testicular cancer awareness and men's health, click the image below.
May 18, 2018