In Just a Few Clicks, You Can Submit a Request for Your State to Recognize April as Testicular Cancer Awareness Month
Each April, for Testicular Cancer Awareness Month, I try to write a piece to highlight something to do with testicular cancer, whether it's about various "April showers'" appropriateness for self-exams or focus on man-globes around the globe. This year, I'm taking a different approach. I want to set you up for success for next April and every April beyond. 
Back in February, I put in a request to the governor's office for a proclamation to mark April as Testicular Cancer Awareness Month in Virginia. Basically, a proclamation is when an elected official issues an official document for noteworthy events that deserve special recognition. By the end of March, I had the proclamation in hand. The process was relatively easy, but I want to make it even easier for you!
Follow these four simple steps to request a proclamation in your own state, in roughly 10 minutes or less.
1. Find your state's "Request a Proclamation" page. 
I made this step easy for you. On the map below, find your state and click the link. Some states don't have direct "RAP" pages, so I linked to the "Contact us" page instead.
Be sure to notice how many days in advance you need to make this request – if it says 45 days notice, you need to have your request in no later than 45 days before you want to receive it. Since I'm publishing this in mid-April 2022, it's probably too late for most states for this year, but knowledge is power for next year! Basically, if you submit in February, you should be good to go for that year.
2. Fill out all relevant contact fields.
This should be relatively easy. You generally have to fill out contact info and the like. I can't help you on that one – you know where you live, and I don't.
If you have to put a reason for some of the more general "Contact Us" forms, and Proclamation/Declaration/etc isn't listed, "Other" sounds like a good choice.
3. Put in your Proclamation wording.
Many states require you to write the Proclamation for them – government, amirite? I'll do you one better, and just give you the text of my approved Proclamation below. Be sure to replace the bracketed information with your state. If you want to write your own, also totally cool! I'd welcome you to leave it in the comments below.
By virtue of the authority vested by the Constitution in the Governor of [STATE], there is hereby officially recognized:
TESTICULAR CANCER AWARENESS MONTH
WHEREAS, an estimated 9,900 American men are diagnosed with testicular cancer each year with approximately 460 men dying annually from testicular cancer; and,
WHEREAS, testicular cancer can occur at any age, but is the number one cancer among men aged fifteen to thirty-five; and,
WHEREAS, with early detection, testicular cancer is over 95% treatable; and,
WHEREAS, early stage testicular cancer can be detected with self-exams and regular visits to a healthcare provider; and,
WHEREAS, those who are educated about early detection are more likely to survive and have better treatment outcomes; and,
WHEREAS, men who discuss treatment options with their healthcare provider and with their family are more likely to make good treatment decisions; and,
WHEREAS, testicular cancer not only affects the patient, but also affects their family and friends; and,
WHEREAS, Testicular Cancer Awareness Month will encourage men to discuss testicular cancer with their healthcare provider;
NOW, THEREFORE, I, [GOVERNOR'S NAME], do hereby recognize April [YEAR] as TESTICULAR CANCER AWARENESS MONTH in our [STATE], and I call this observance to the attention of our citizens.
4. Submit and wait. 
I can't promise that it will work, but I'm at a 100% success rate right now! (One successful attempt out of one total attempt is still 100%.) Testicular cancer awareness is a pretty non-polarizing and non-political issue, so I can't really think of a reason it would be denied, outside of not having time or resources at the governor's office.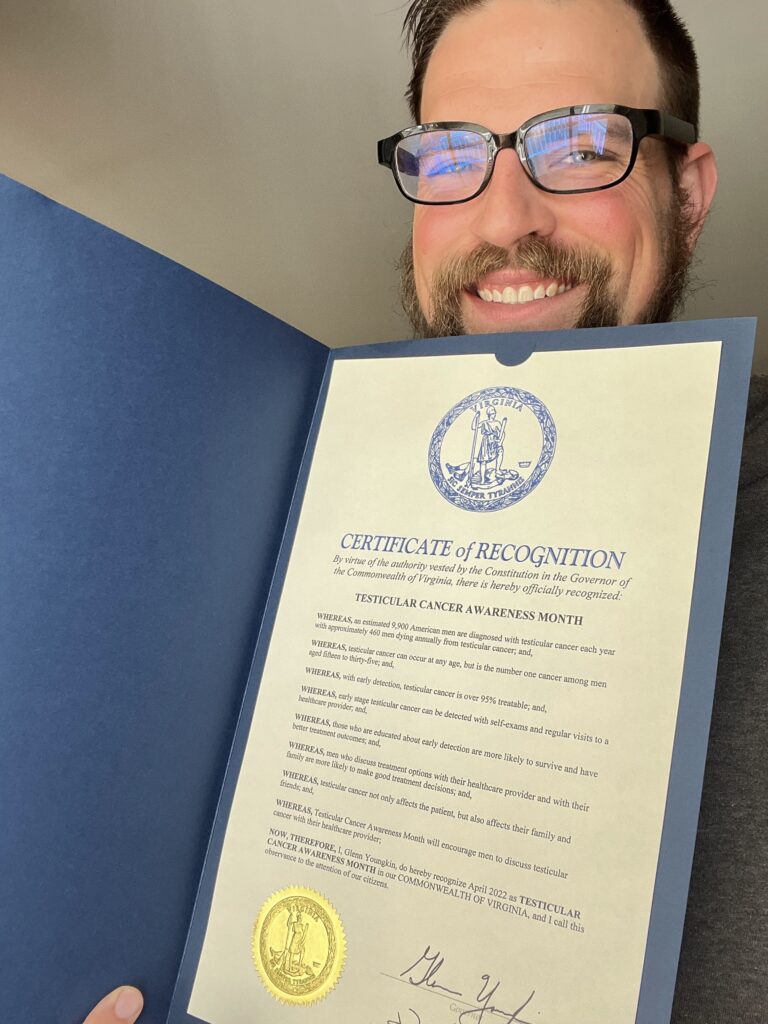 If you get a response, great. Be sure to post about it somewhere online. If not, you have all the info and can do it again next year.
Next steps
It's really that easy. In about 10 minutes, you can shoot this request off, with minimal work or thinking on your own part. You could even Google how to submit for town, city, or county proclamations, but there are over 3,000 counties and I can't look all of those up for you. Either way, you have most of the information you need at your fingertips, so have at it.
I plan to submit one every year (as is required in Virginia), regardless if the Governor is Republican, Democrat, or one of our eventual robot overlords. While I understand not everyone likes their governor, this is an issue that affects all of us – a true biballistan issue, if you will.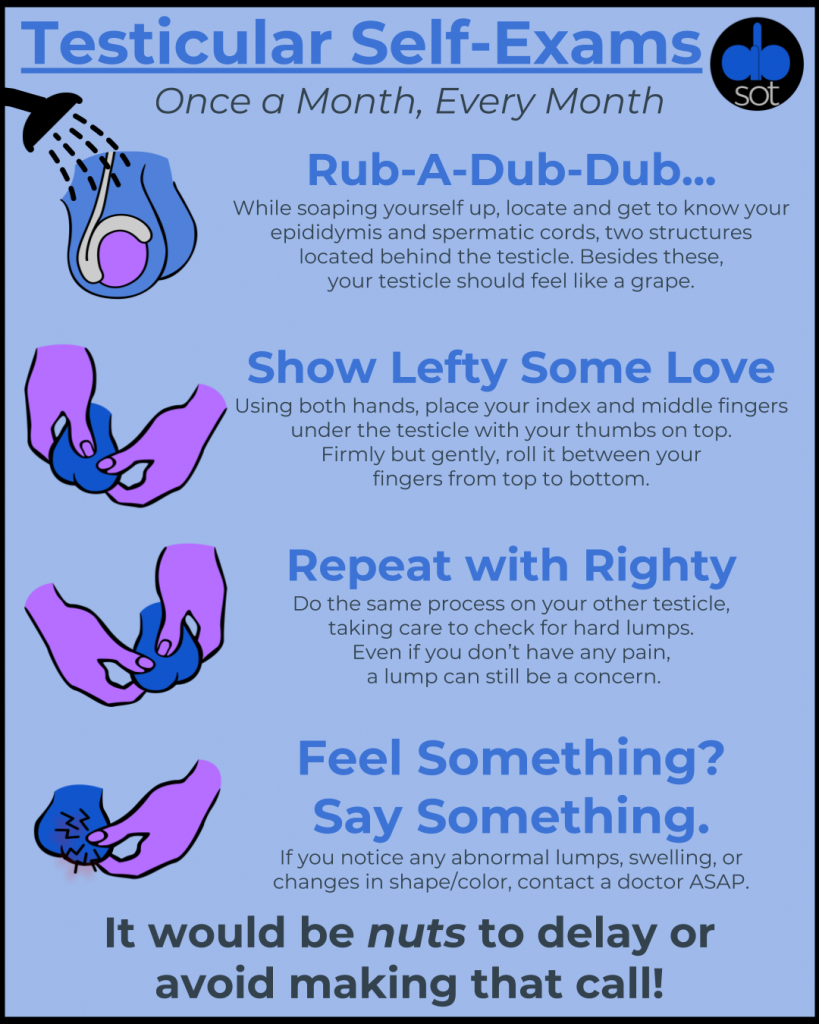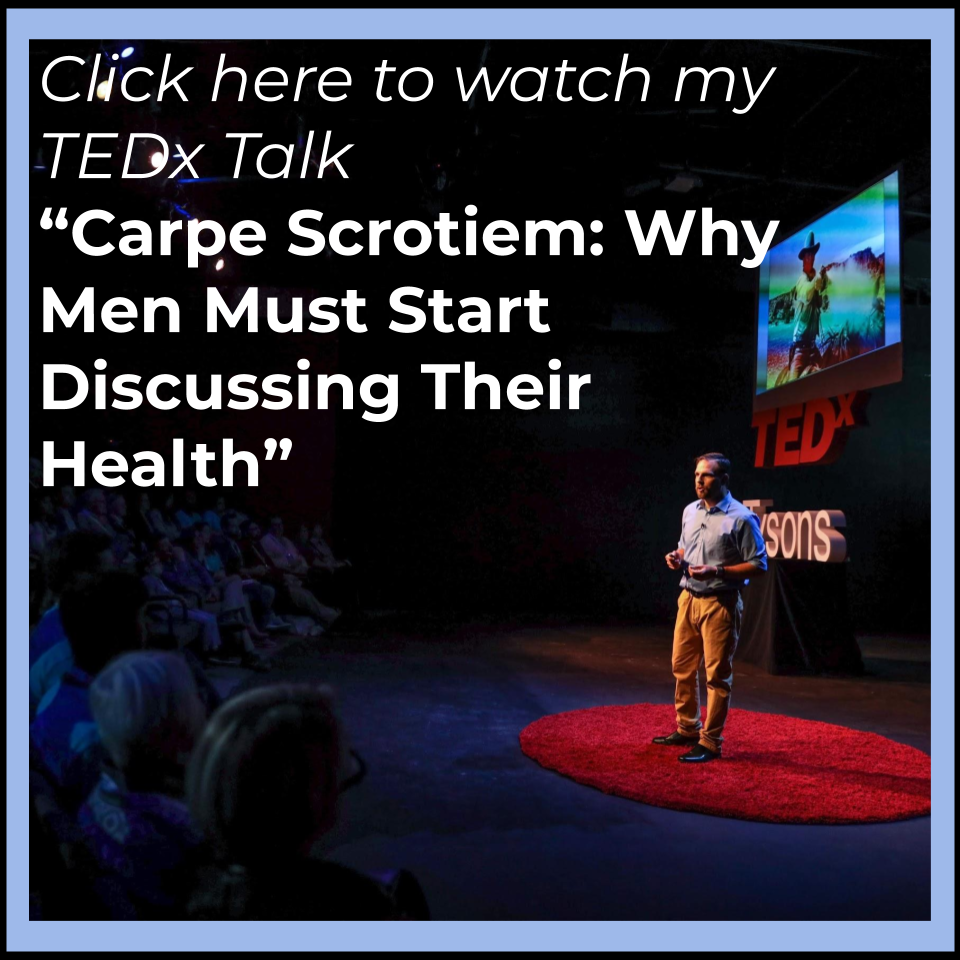 ABSOT is endorsed by the Laughter Arts and Sciences Foundation, a registered 501.c.3 charity. To make a tax-deductible contribution to help continue ABSOT's work with testicular cancer awareness and men's health, click the image below.
April 13, 2022