Dadi is Revolutionizing the Fertility Preservation Market With None of the Awkwardness and Ridiculous Expense… And All of the Fun
Prior to starting chemo, I decided to bank some sperm in case my treatments entirely wiped out my fertility and I wanted to have children in the future. While making that deposit seems like a pretty straightforward process, the traditional process of sperm banking is incredibly awkward.
First, I had to drive nearly two hours out of my way, just to get to know myself… into a cup. I also had to pay over $2,000 for something I've done for free hundreds of times. I'm clearly in the wrong industry.
Then, I was escorted into a small room with a couch (that probably thousands of guys had sat on, in varying degrees of undress) and a TV. Next, I was told to pick a "movie" to watch. Initially, I chose Lonely Suburban Moms Part IV, but turned it off mere seconds later. I hadn't seen the first three, so I didn't understand the plot.
Finally, I was successful in banking my deposit and wanted to forget the entire experience.
Yet, I couldn't help but remember how awkward, inconvenient, and expensive it was.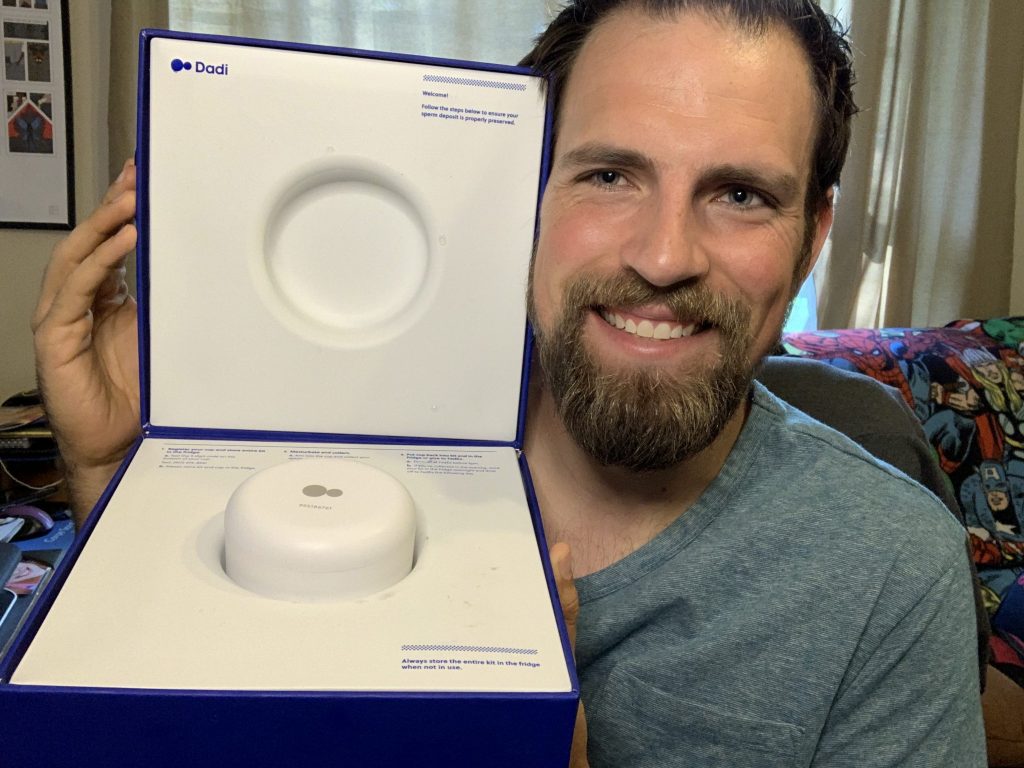 Recently, I reviewed new research about fertility after chemotherapy for testicular cancer. I haven't had my own fertility tested since completing chemo, but I knew I had a pretty solid base beforehand. However, I had no desire to repeat the above mentioned process again, so I decided to hard pass on getting my fertility rechecked until a better method arrived.
Then an email from Dadi arrived. I'm not referring to my father (or significantly older gentleman benefactor), but Dadi, as in the "men's health company that's reinventing the fertility industry."
The email contained two things: an opportunity to interview the CEO and co-founder, Tom Smith and an offer to try out a kit to test my own fertility. I accepted both… under the condition that I didn't have to do both at the same time.
ABSOT: In your own words, what does Dadi do?
Tom Smith: "With our FDA-licensed, at-home male fertility test and sperm storage kit, we provide a secure solution that is 10x cheaper and easier to use than traditional clinics. Our sperm storage kit is available online at dadikit.com for $99. The temperature-controlled kit is discreetly delivered to the customer's home, where he then deposits his sperm and uses the pre-paid FedEx priority overnight label to ship it to Dadi's secure lab facility.
Within 24 hours of receipt, a certified lab technician analyzes the sperm deposit and emails the customer a personalized fertility health report, which also includes a video of his actual sperm. Healthy deposits are then stored in Dadi's secure lab facility on a $9.99/month or $99.99/annual subscription — giving men a low-cost, long-term option for storing their sperm.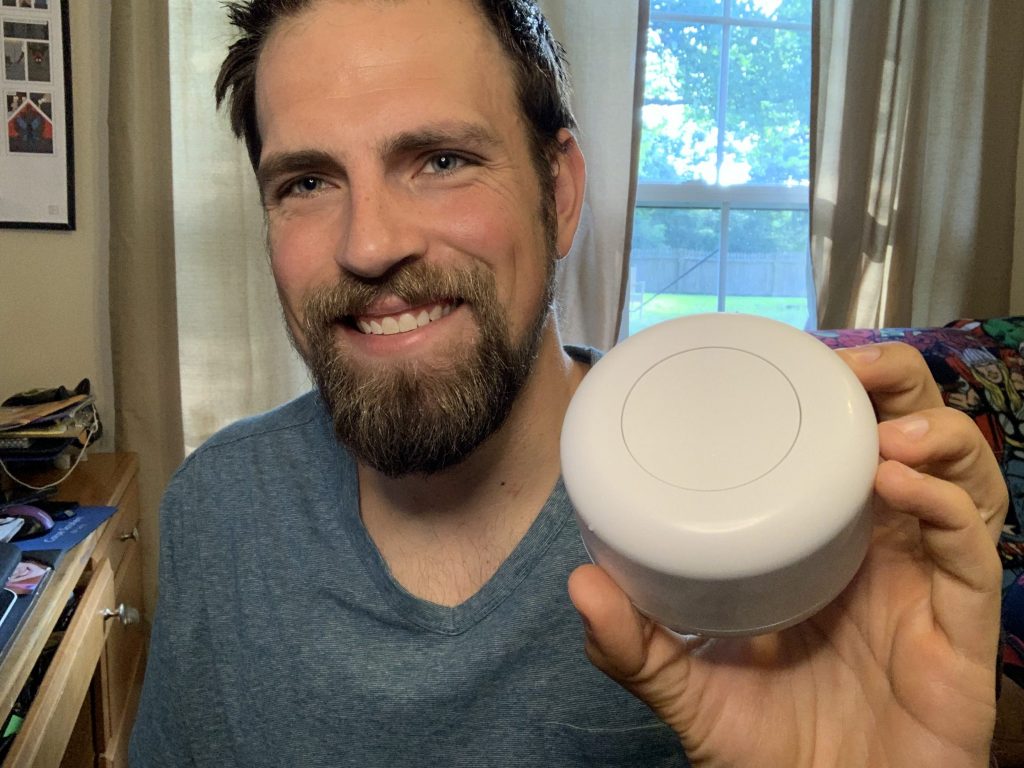 By creating a simple and accessible way for men to learn about their reproductive health, Dadi ensures that couples can use healthy, younger sperm when they're ready to start a family — putting them in charge of their own futures."
ABSOT: What inspired you to start Dadi?
TS: "Nearly four years ago, a close friend shared a story of visiting a sperm bank to ensure the ability to have a future healthy family. From this story, I learned how uncomfortable and expensive the experience was for men.
Shortly after, I started researching fertility, along with my co-founders Mackey Saturday and Gordon von Steiner, and we found that the rates of infertility are worsening, and society is ignoring the fact that this is a problem shared by both men and women. We started to think about ways to make sperm storage more personal, less intimidating, and affordable for all men.
Together, we launched the FDA-licensed, at-home male fertility test and sperm storage kit to provide the option for couples to have the ability to start a healthy family, in a more accessible way.
ABSOT: As we come to the climax of our interview, no pun intended, how do you hope Dadi helps improve men's health and fertility health?
TS: "Our goal is to provide a service that can be accessible to everyone. The current sperm storage industry is archaic and inflexible. In order to democratize the industry, we had to redesign the experience and product from the ground up and change the entire industry's business model."
ABSOT: In general, why do you think men don't want to talk about their health?
TS: "Most men are embarrassed to talk about their health, especially their fertility and sperm health. We're really trying to build open conversations with men and families, and that starts with the Dadi kit. We're normalizing the conversation around male fertility and reproduction."
ABSOT: What are the future plans for Dadi?
TS: "Fundamentally, we want to make sure we're operating at the highest medical standard, which is why we prioritized getting FDA-licensed in all 50 states in addition to working with the best medical experts in the industry including Stanford School of Medicine's Michael Eisenberg, who is our Chief Medical Advisor."
With the interview complete, it was time for my second commitment – to test out the kit myself.
First, I had to order the kit, which took literally two minutes. After signing up, filling out the relevant information, and paying, I got to choose when I wanted my refrigerated box delivered. I chose to have it delivered early in the week of August 5th.
It arrived promptly on the day I requested, in a standard cardboard box. I really dropped the ball and forgot to take a picture of the original packaging, but it looked no different than any other delivery I regularly get. Soon after, I stuck it right in the fridge.
I also received regular emails from Chris, my personal support team member, who was happy to answer any questions. While I didn't ask him specific questions about his recommendations on a successful deposit process, I had a clarifying question about the shipping process.
The website said that it's required to drop the completed Dadi kit off at a FedEx Ship Center. The nearest one to me isn't the most convenient location, but I do have a few Print and Ship Centers. However, Chris did clarify that due to the biological nature of the package, it needed to be a Ship center.
However, the nearest FedEx Ship Center was on the way to the airport I was flying out of for the TCF Summit on Friday, August 9th. The video below covers my experience and I PROMISE it is safe for work.
If you don't feel like you can trust me and watch the video, I'll summarize my experience.
After breakfast on Friday, I took the kit out to rest for twenty minutes, registered my cup by texting the code on the bottom. Then, I did my thing (with my thing) into the cup. Once… finished… with that, I screwed the top back on, pressed the button to deploy the preservative, and sealed up the box.
I stuck it back in the fridge until I had to leave to drop it off. For the record, I made sure the now used cup never came into any contact with any food, lest we experience an American Pie moment.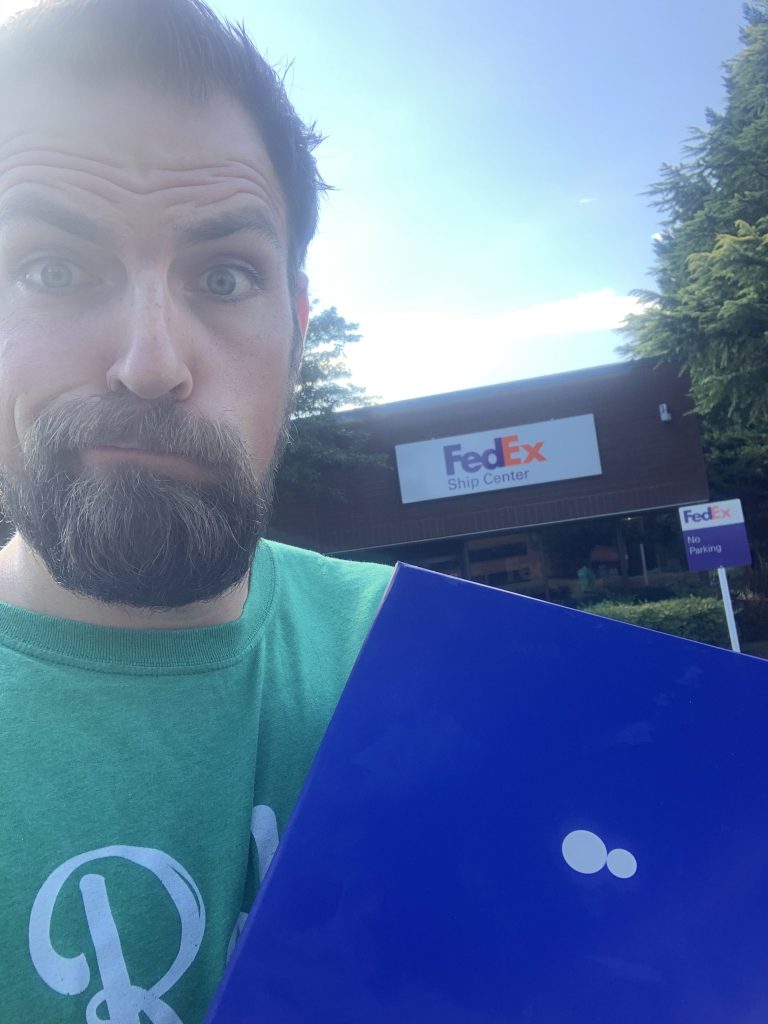 The overall process was quick (but not too quick, if you get my drift), easy, and much more comfortable than my experience in 2016. Even better, I received my results on Monday, which was significantly faster than the weeks I had to wait for my results back then.
In 2016, I had a total sperm count of 182 million, with a concentration of 38 million per milliliter. This is considered normal to above average in relation to the World Health Organization's guidelines. According to my 2019 results, I now have a total count of 52 million, with 13.8 million per milliliter concentration.
If you can't math well, that's a lot lower than before.
However, it doesn't mean I am infertile, which really was my main curiosity. Within my Dadi portal (which sounds a lot dirtier than I intended it), there was also a reassuring message reading, "A below average score should not necessarily be a cause for alarm."
I was also able to see a video that showed what my sperm looked like under a microscope, which is definitely something I didn't see in the first round of banking. Is it weird that I named them and encouraged them to race each other?
Between my recent usage of the LetsGetChecked blood testing kit and this Dadi sperm testing kit, I firmly believe that at home testing is the next step in medical care.
Strictly financially speaking, it's a better option. As I said, I paid over $2,000 for my sperm banking in 2016. This included analyzing the deposit and five years of storage. With Dadi, the same thing would cost roughly $600 ($99 for the kit plus $99 per year for five years).
In the event the sample is not found viable, Dadi does not charge for storage. Once a customer decides they want to put the samples to use, Dadi's retrieval cost is $299. This fee includes the shipping to the clinic and cryogenic equipment to preserve the sample during transportation. This is slightly higher than my cryobank's fees, but it's still way less expensive overall.
But for the overall comfort of the experience, Dadi simply can't be beat.
If you'd like to try it out for yourself, you can purchase a kit from this link. By using that particular link, $10 from every kit will be donated to the Testicular Cancer Society. I definitely recommend it for your fertility needs and I'm not just jerking you around.
While this article allowed me to branch out from my testicular humor and into the upper echelons of masturbation jokes, fertility is a serious matter. Regardless if you are a dad, want to be a father, or simply just want children as a free workforce, it's important to know that infertility struggles are not only a woman's issue.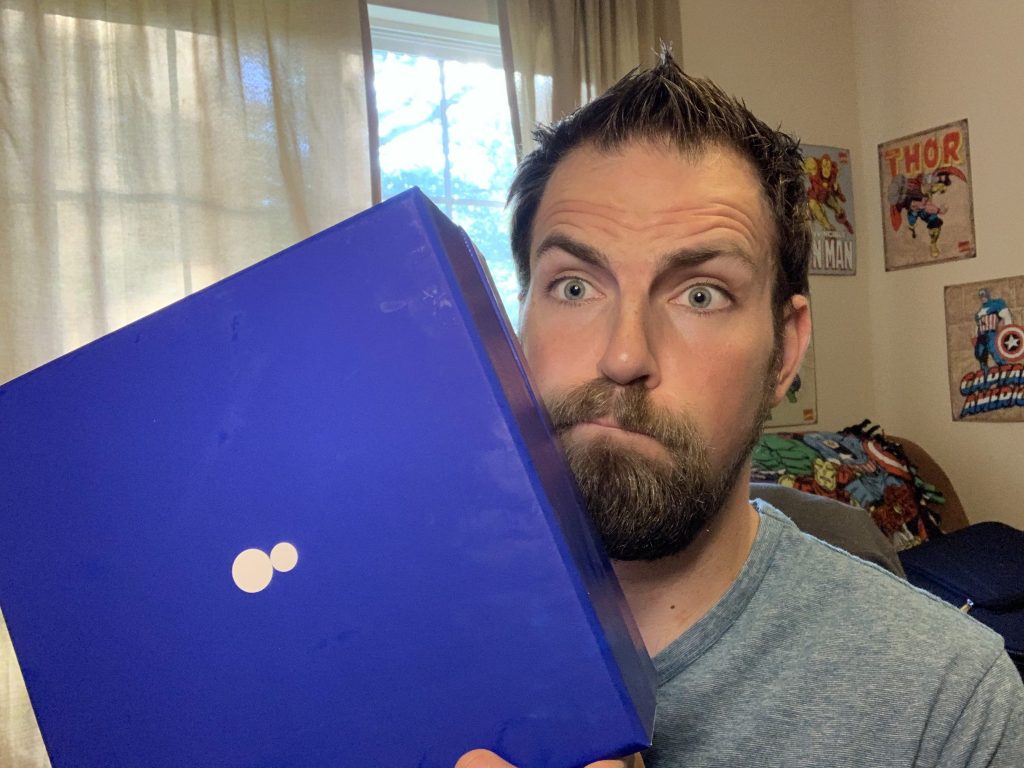 Infertility is just as likely to be due to male factors as it is for women.
Learning about your reproductive health now and storing your sperm while it is at peak health will ensure your ability to have children in the future.
Men who may be undergoing chemotherapy, cancer treatment, are in jobs or live lifestyles that are high risk, or those undergoing gender confirmation surgery should especially consider storing their sperm. Furthermore, male fertility appears to be on a downward trend with a major scientific study suggesting that sperm counts have halved since the 1970's.
The key takeaways are that people are having children later in life (as you get older, your sperm count and sperm quality decreases), our generation of men are exposed to more chemicals (like BPA, BPS, and Phthalates, which are known to impact our reproductive capacity), and an increase in obesity and decrease in active lifestyles have all negatively impacted male reproductive health.
Using Dadi over traditional fertility preservation removes a lot of the common barriers and excuses: the awkwardness, uncomfortability, and expense.
Additionally, this acts as an "insurance policy" against some of the above mentioned issues. Dadi provides a service that should be available to all men. We can't allow the old models to deter men from taking steps to preserve their fertility. Dadi is worth every penny and well-worth your time.
Based on my own experience, I promise that you will be… completely satisfied (in more ways than one).
Disclosure: I was paid by the company to review the product and write this article. All opinions expressed are my own.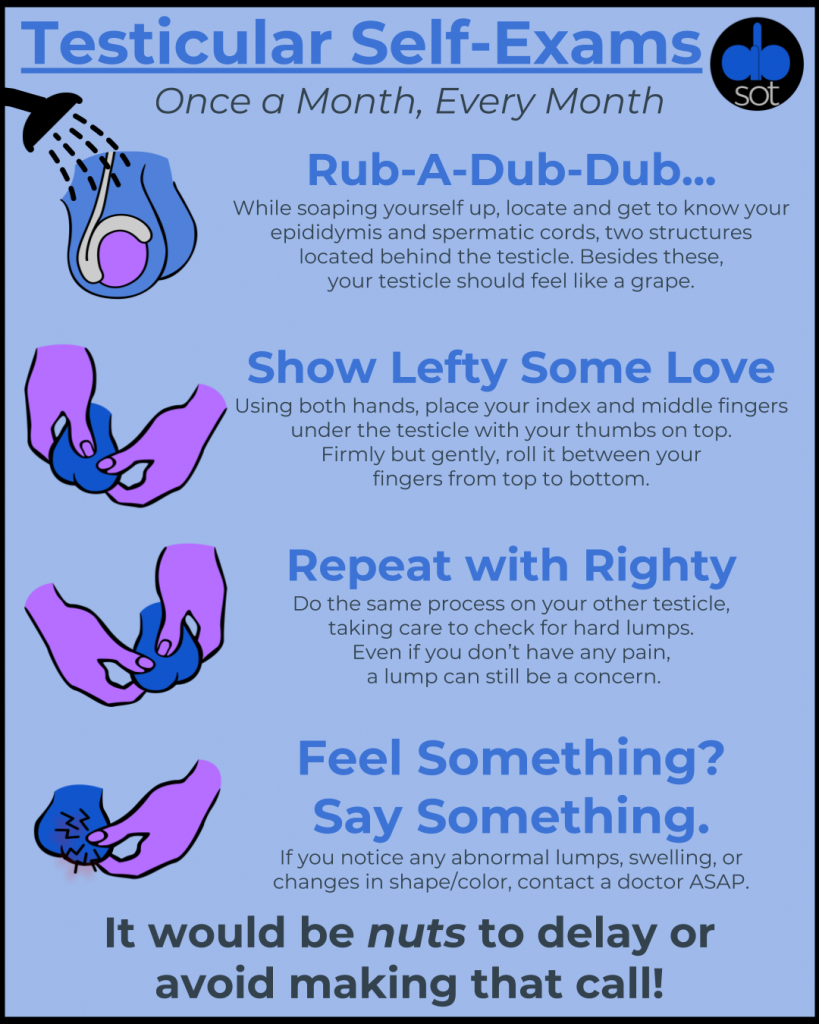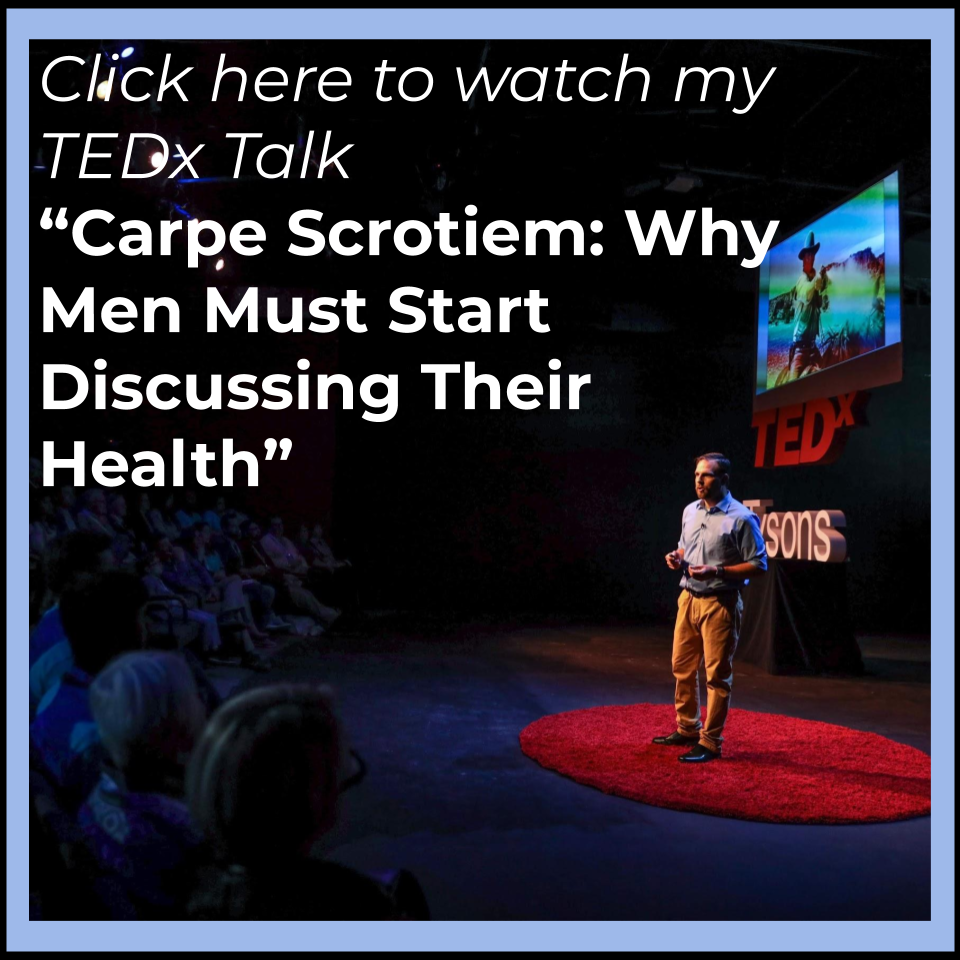 ABSOT is endorsed by the Laughter Arts and Sciences Foundation, a registered 501.c.3 charity. To make a tax-deductible contribution to help continue ABSOT's work with testicular cancer awareness and men's health, click the image below.
August 29, 2019