I Sit Down Again with Scott Hamilton to Discuss His New "Live Your Days" Project and Men's Health.
Last fall, I was given an incredible opportunity to speak with Scott Hamilton, figure skating superstar, fellow survivor, and incredible cancer advocate. To my surprise, I was offered another chance this fall. Henceforth, it shall be noted that a conversation with Scott shall become a mainstay of my fall, alongside pumpkin spiced things and apple cider galore.
Sharing a bond over complex medical histories, I first asked how Scott's health is doing.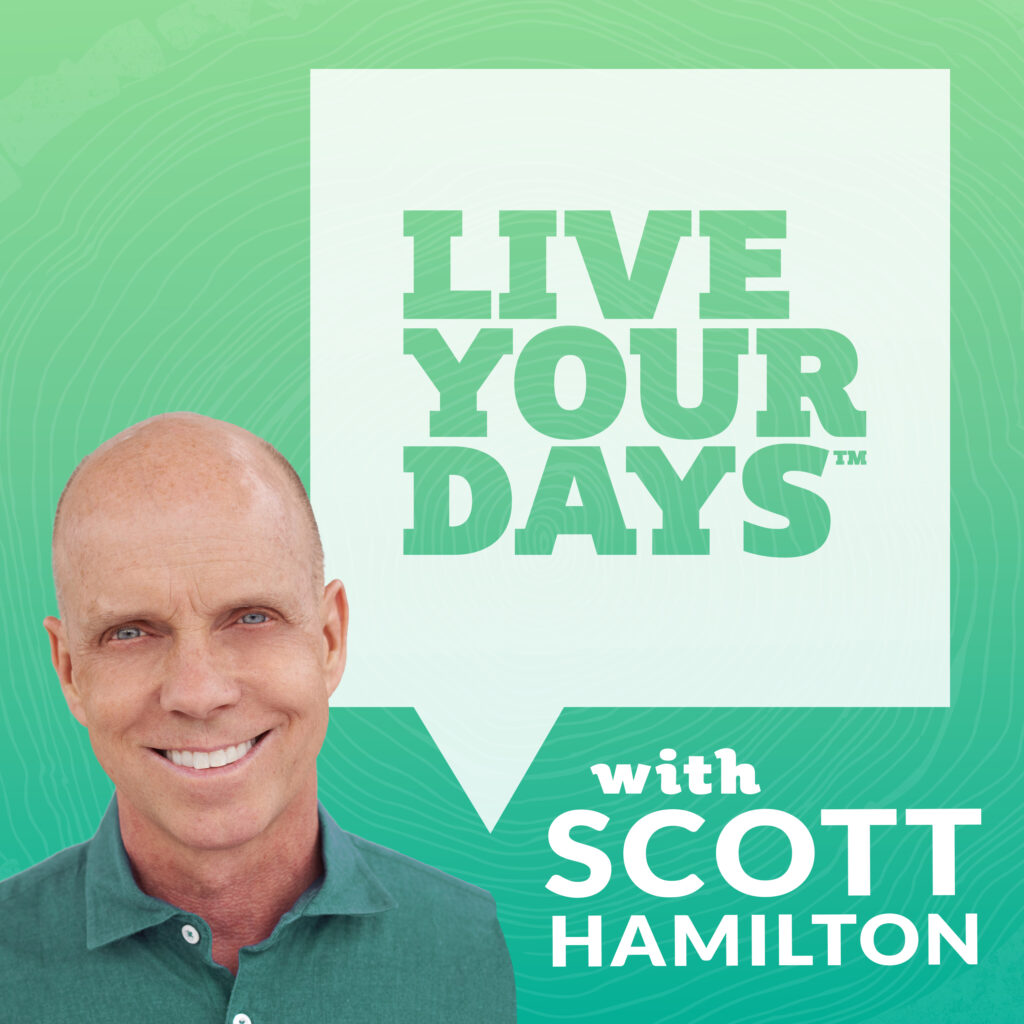 He shared that he had a recurrence in the brain tumor that happened about a little over four years ago. Since then, he's been vigilant in surveillance and a recent scan showed it was starting to grow a little bit again. However, it has done that before – in his words, "it grows and it shrinks and it shrinks and it grows."
He goes in for another MRI in about two and a half weeks. If they find that it's still growing, he'll most likely have to do some sort of medical or surgical intervention. Nonetheless, he sounded very optimistic and has a clear plan for continued health.
His new endeavor this year is a project called "Live Your Days."
Live Your Days in a nine-part podcast series launching October 6 (aka today!) and running weekly through the beginning of December. Guests include Robin Roberts, Kristi Yamaguchi, Verne Lundquist, Alison Sweeney, Marcus Whitney, Miles Adcox, Kevin Nealon and Bart Millard. Along with the podcast, there will be a 30-day challenge including daily emails with actionable guidance, encouragement, insights and perspective on making the most out of every single day. There is also Live Your Days merchandise available and proceeds from this feed back to Scott's nonprofit CARES.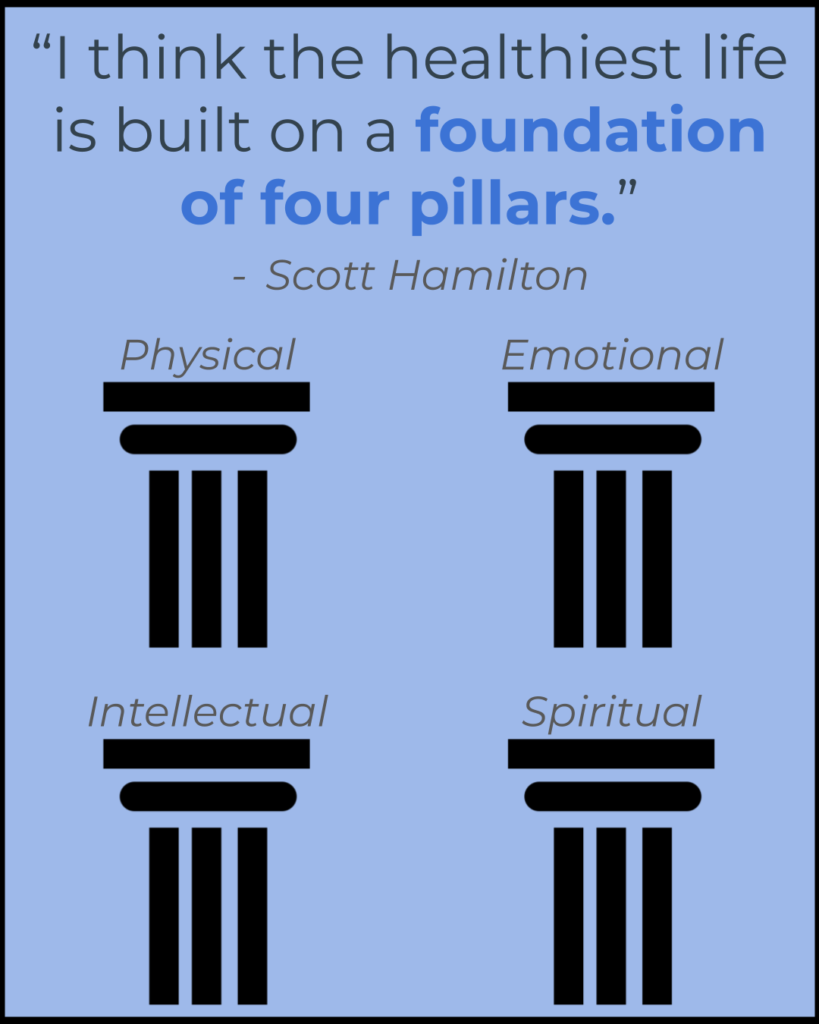 I asked Scott more about the basis of Live Your Days and he had the following to say:
"I think the healthiest life is built on a foundation of four pillars. The first is physical – obviously we got to take care of our bodies, and second is emotional. We've got to take care of our mental health, our joy, and our ability to live within ourselves right. Then there's the intellectual part, that's another pillar that sort of allows us to be curious and growing and ever expanding our, you know just our understanding of what this life is and and just how it works. The last one is spiritual – I realized that that part of my life has truly awakened every other part of my life and realized how important it is."
In addition to the genuine respect and enthusiasm he had for sharing the stories of his podcast guests, he was also very excited about the 30-day challenge "because it allows you to truly experience and understand things in a really beautiful way."
I wanted to know what Scott chose to start the Live Your Days project.
He circled back to his brain tumor recurrence from four years ago, which was his third recurrence. His first recurrence left him feeling fearful, and he experienced a heavy sense of dread in the second. However, this time around, he felt an "overwhelming sense to get strong." He wasn't sure what exactly strong meant, but eventually came to realize he wanted to be strong in his aforementioned four pillars. He gave an interview to People.com that quickly went viral. The core of that interview really sparked the springboard for Live Your Days: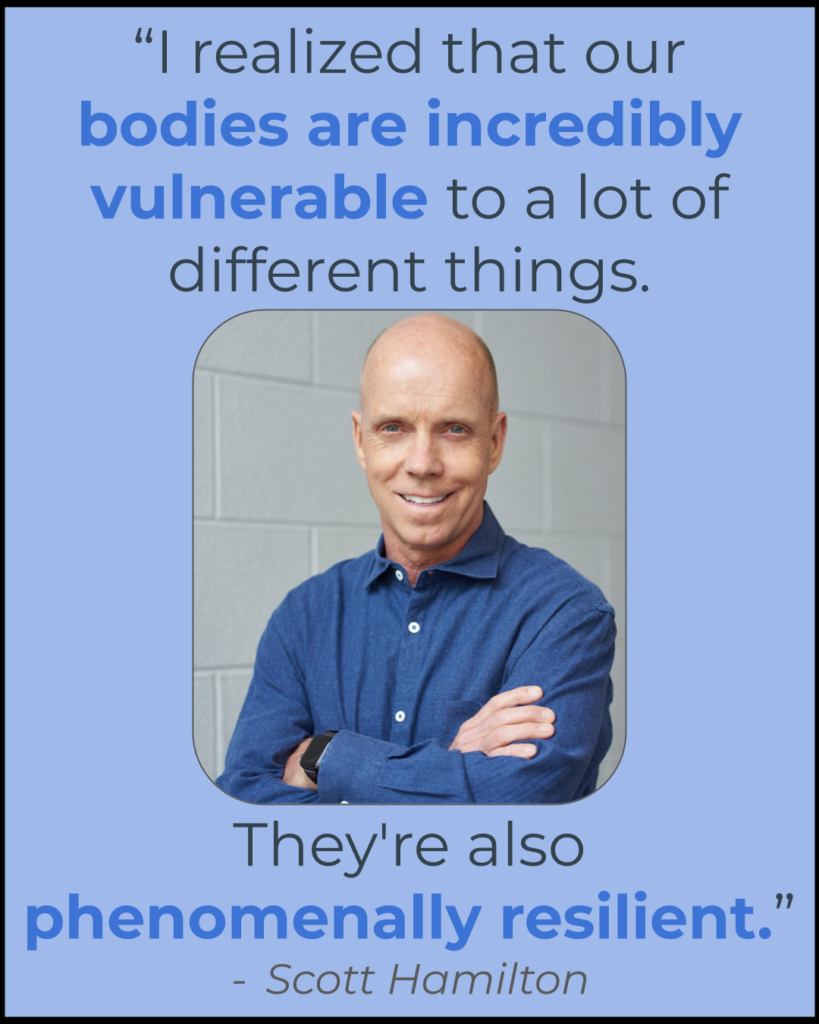 "I realized that our bodies are incredibly vulnerable to a lot of different things. They're also phenomenally resilient. They're just kind of made to be that way, but ultimately they're temporary. Knowing that, it seems logical to be a little bit more intentional about how I live my days. So it's about living your days and how do you do that?"
Though he had the idea for four years, time, money, and the crew never seemed to line up until this year when the COVID-19 pandemic hit. In his words, "there's never been a time in our history where we didn't need encouragement, information, and understanding about who we are and what our what we're about than right now."
All the pieces fell into place and he was able to bring his idea to life.
Seeing as we are both men who have faced health crises and spoken about it so openly, I asked him to share some more thoughts on how men can really Live Their Days.
Over the years of his survivorship he's noticed that women are really good about caring for themselves. Most men he's met don't really want to go to the doctor because they think they are bulletproof and don't need to go. To that he often says,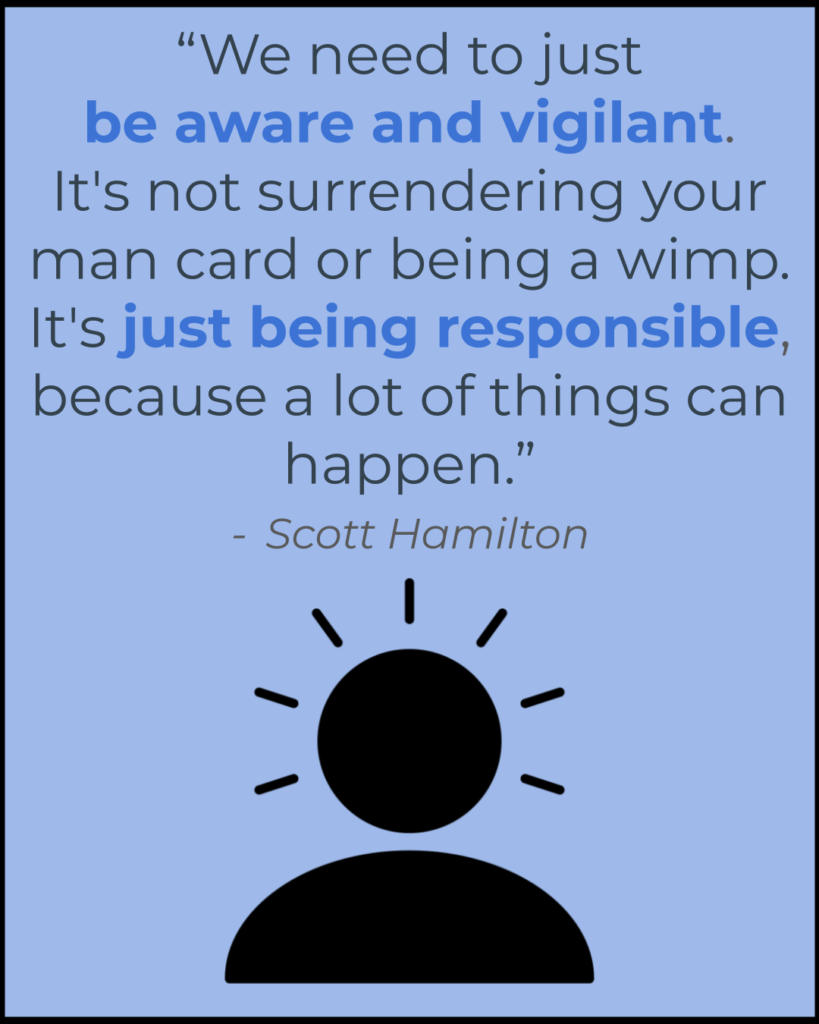 "Let's just take a step back and understand that longevity is the greatest win. It's one thing to get there; it's another thing to stay there. Anytime you know you look at great athletes and people in business it's not that they made it; it's the fact that they stayed there.

Really just understanding that a lot of things can happen quietly and surreptitiously. We need to just be aware and vigilant. It's not surrendering your man card or being a wimp. It's just being responsible, because a lot of things can happen. The earlier you get to anything, the easier it is to rise above."
It's about making the right choice – educating yourself on what the different options are and picking the one that really feels best and right to the individual. He shared that within cancer treatment, there are multiple different treatment modalities right now and he mused aloud:
"Where you stand in your battle in many respects depends on where you're sitting at the time. If you're sitting across from a surgeon, you're probably going to get cut. If you're sitting across from a hematologist, you're probably gonna get infusions. So why not sit across the desk from six different people? Why not educate yourself so that you can make the right choice?"
Scott plans to continue growing the Live Your Days platform.
He hopes to continue to build it and "give people a lot to think about in different ways of approaching their lives." He invites everyone to check it out at the Live Your Days website and left me with one final nugget of wisdom:
"It's not the number of days you have but how you spend them."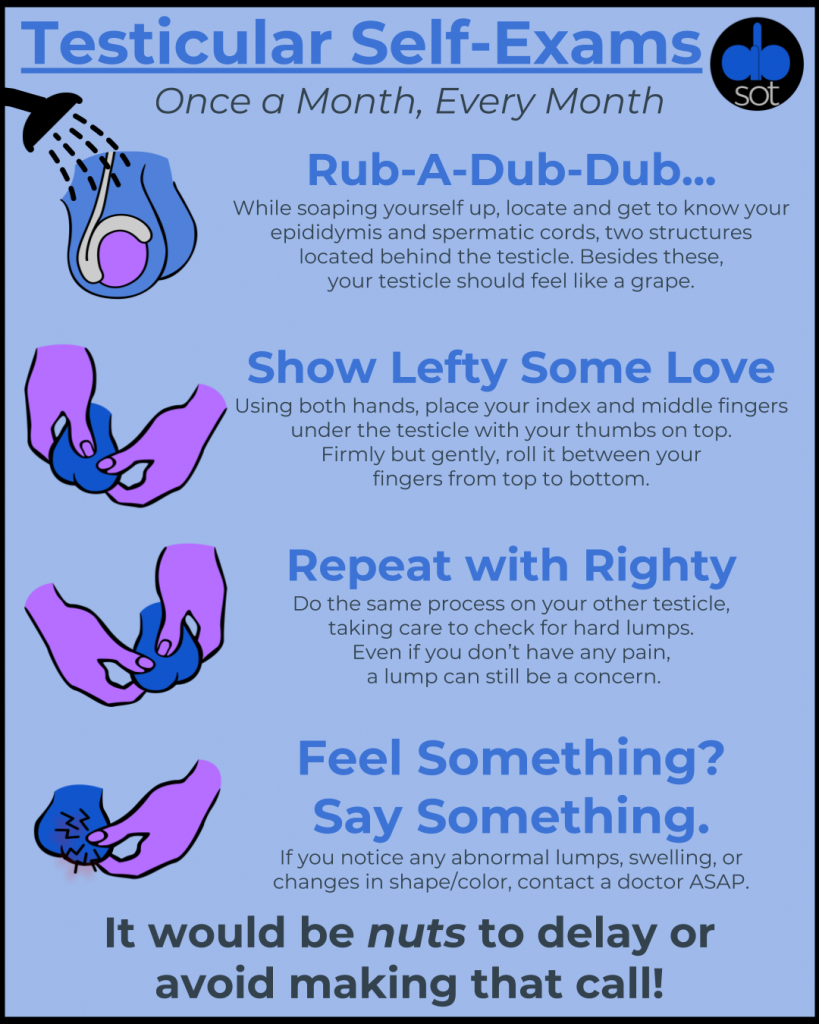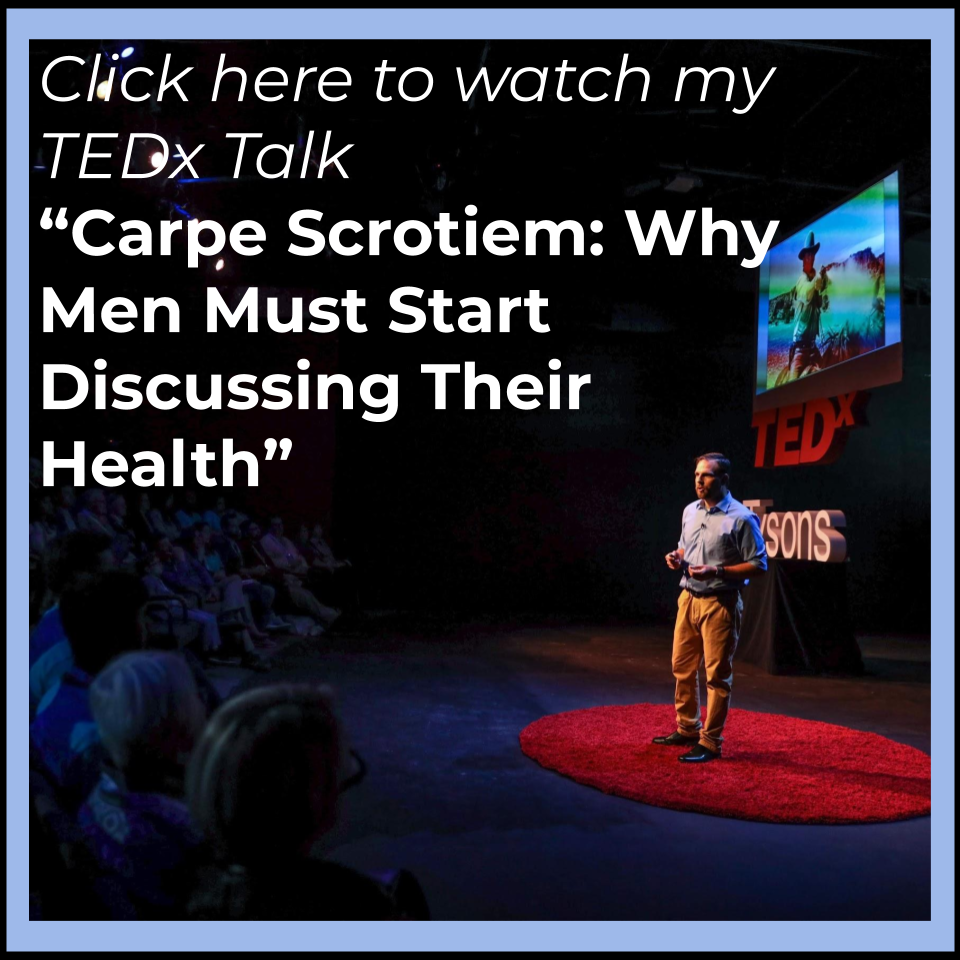 ABSOT is endorsed by the Laughter Arts and Sciences Foundation, a registered 501.c.3 charity. To make a tax-deductible contribution to help continue ABSOT's work with testicular cancer awareness and men's health, click the image below.
October 6, 2020