In I Married a Dick Doctor, Who Fixes Women Too, Madeline Zech Ruiz Shares Important Information about Urology
In 2020, I read a lot of books, but one's title really rose above all others: I Married a Dick Doctor, Who Fixes Women Too by Madeline Zech Ruiz. This book was pitched to me as "an upbeat and educational approach to discussing the top 10 urological issues that affect both men and women—everything you wanted to know about human plumbing but were afraid to ask!"
I blazed through the book and found it to be an apt description. It's clear that as the wife of a prominent reconstructive urologist husband, aka "The Dick Doctor," Madeline has become hugely passionate about all things urological. Her main message from this book is for all men and women to
"'GO SEE A UROLOGIST OR UROGYNECOLOGIST!' Your quality of life is waiting for you to grab the phone and call your board-certified urologist or urogynecologist."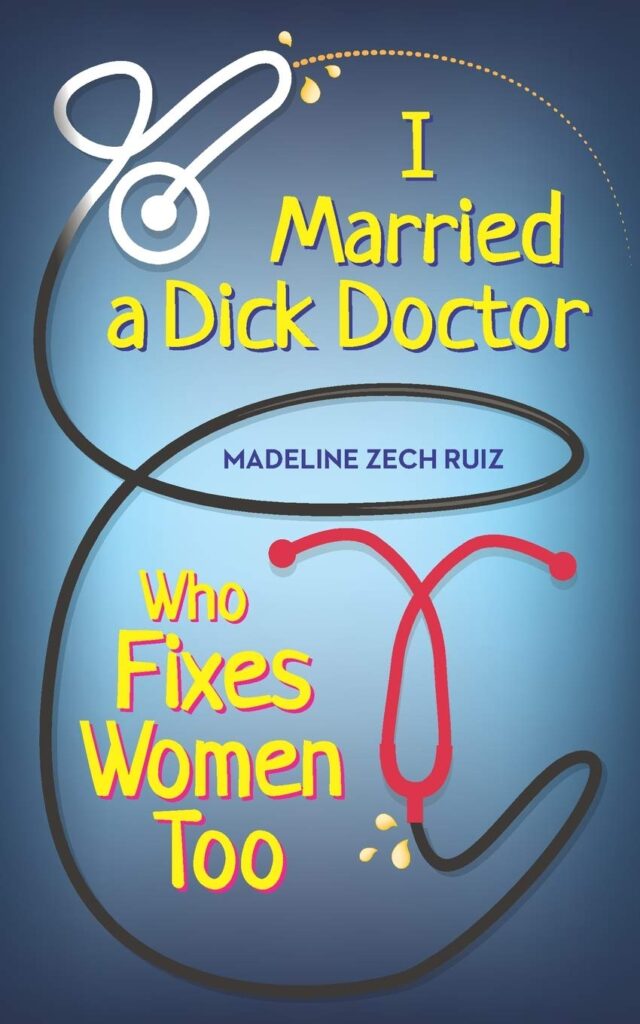 This sentiment is mirrored by Dr. Charles Modlin of the Cleveland Clinic. Seeing a pattern here, I talked with Madeline to get her insights into this important declaration.
ABSOT: In my experience, I was referred to a urologist, due to suspected testicular cancer. How does the typical man find a urologist?
Madeline Zech Ruiz: Most patients are referred by their primary care physician or family doctor. However, a board certified urologist can also be found online and by word of mouth. When people have a good experience with a doctor the word gets around town.
One thing I have learned is that the more a doctor advertises, the worse they are! A good doctor does not need advertising because they are so busy by word of mouth. The internet allows us to find and verify a board certified urologist. It is also helpful to read the current reviews for that particular doctor. Every doctor gets dinged for wait times, but here's a little hint: The longer the wait times, the better the doctor!
It can be challenging to find the "right" board certified urologist for treating your specific condition. This is because it can be difficult to understand the different types of urologist available and what they are actually trained to do. I wrote an entire chapter about the variety of urologists and their sub-specialty training, which makes them experts for both a man or woman's urological conditions. 
A general urologist is good for infections, vasectomies, and low testosterone diagnosis, among other innocuous urological conditions. Anything else, most often requires a more highly trained urologist or uro-gynecologist as described in my book. There are uro-oncologists, pediatric urologists, reconstructive urologists, endo-urologists, and urological trauma and reconstructive urologists.
Every patient should become thoroughly educated about their diagnosis, treatment options, and the best type of urologist for that particular problem. This allows you to participate fully with the doctor in determining the best course of treatment."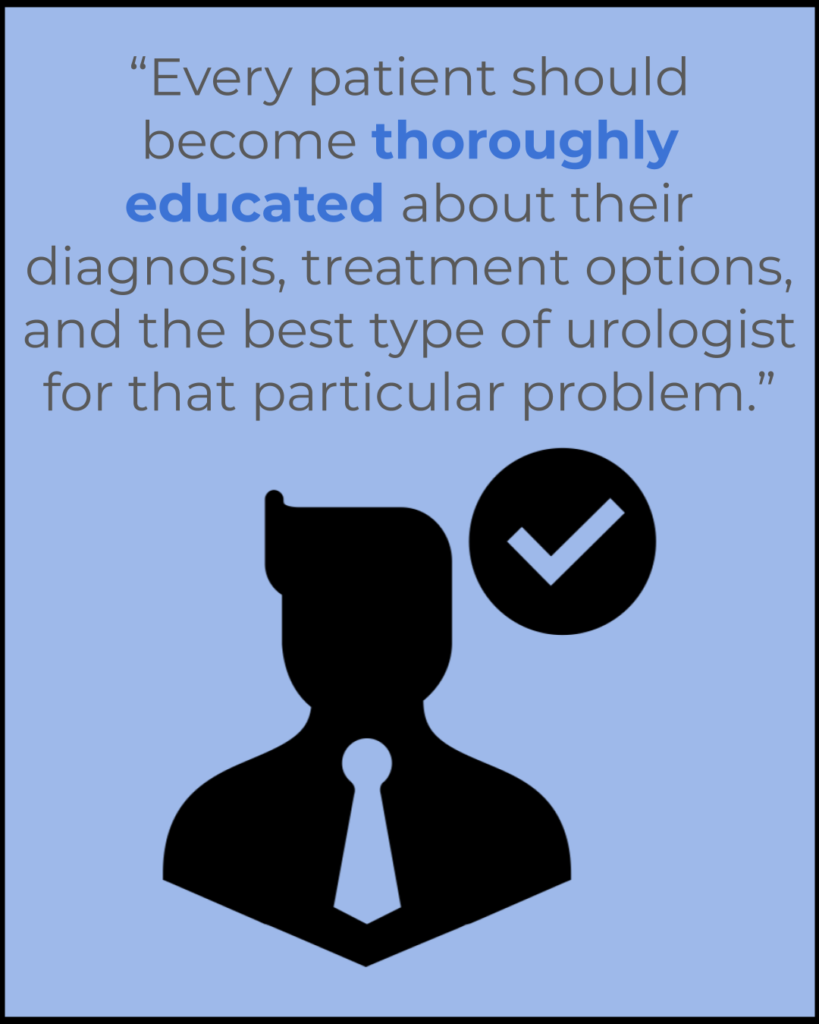 ABSOT: Once they get an appointment secured, what would you recommend men do at a urology appointment?
MZR: "My first recommendation to every man (and woman) reading this is to PLEASE open up to your urologist about why you made the appointment. Tell them what you are terrified of; tell them about your plumbing. Every word out of your mouth is a clue for the doctor to quickly diagnose and solve your plumbing issue. The smallest symptom like fatigue or lack of desire can be a very big clue for a highly trained doctor who sees these symptoms in patients every day.
"A urologist is trained to not only look at the results of your testosterone level but is also trained to ask very specific questions and rule out other potential male problems. I'm sure your imagination is taking off right about now as to what those other problems could be and that is why you go to a urologist instead of a family practice doctor for this particular issue."

– page 63
No question is silly! The doctor has heard everything – more than you would ever believe. You can not shock him or her. Just say it!
Every question or description of what is happening to you helps the urologist determine any underlying condition that brought you to their office. Remember that the doctor is very good at asking you questions, so please be honest and brave when answering. This creates a win-win situation. This kind of organic conversation is the fastest way to work with your doctor and solve your urological issues."
ABSOT: You mentioned earlier about a variety of types of urologists. If referred to a specialist, how can men research if the specialist is the right type and a good fit?
MZR: "The best way to determine if your urologist is the right one for you, is to ask a lot of questions. Do not let them rush you. If they rush you, then get another doctor! Remember the hint I gave you earlier about long waiting times at the doctor's office? That is an indicator that the doctor is taking his time with each patient so they can be heard and treated with dignity and respect. With the internet today, all credentials and reviews are available. You can verify their board certifications easily at this website.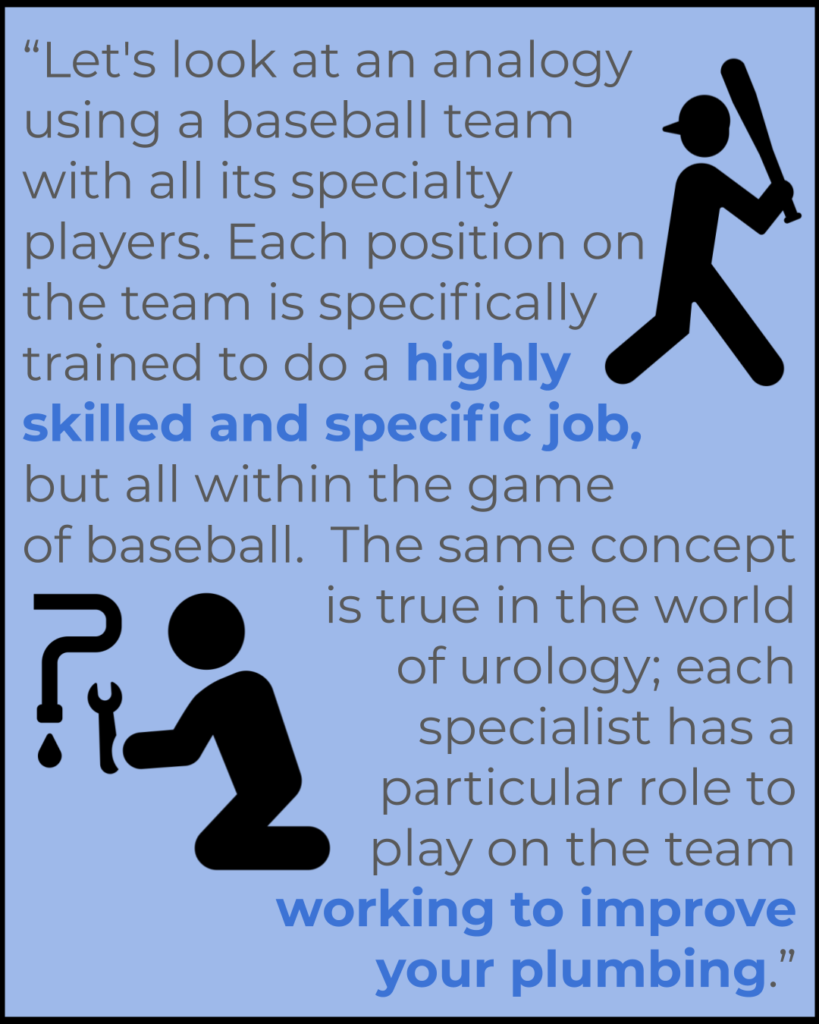 Let's say that your general urologist has told you that you have prostate cancer and you need to have your prostate removed. It would be prudent to seek out a uro-oncologist, who does this all day, everyday and is very experienced in this surgery. A "radical prostatectomy" can leave you impotent or incontinent in rare instances with a highly trained uro-oncologist.
Now imagine what the success rate would be with a general urologist who is not as experienced. Because this affects your quality of life, you must take the time to research your doctor and ask lots of questions and check their certifications and qualifications.
You have to do this research on your own most of the time because your family doctor may have a vested interest in referring you to a specific doctor.
Always ask how many of the surgeries or procedures your doctor has done for your specific recommended surgery. It is important to verify that they have been "trained" for this kind of surgery. You can do this by verifying that their board certification is current, and find out if they have a "fellowship", which is generally an extra two years of training in their subspecialty. These fellowship trained doctors are the best of the best and are highly specialized, increasing your chances for success.
The next best thing to do is always get a second opinion. My husband tells me that he is always happy when his patients tell him they are getting a second opinion because it means they are doing their homework. This is not insulting to the doctor. If your doctor is offended in any way, then get another doctor.
ABSOT: In the book, you say, "If we were to start educating parents about the effects of diet and obesity and how it will affect their son's life down the road with regards to his ability to perform, I bet it would get the attention of the dads." Why do you think sexual issues are so much of a motivating factor for getting men to get to the doctor?
MZR: "Sex is a very difficult subject to talk about unless it is approached with a light hearted touch of humor. That is why I wrote my book. Gentle humor often opens the door for discussion and lightly excuses the subject matter when it's embarrassing. This creates the opportunity to talk about your human plumbing and sex. We all own either a penis or vagina and both of them break down at some point.
Sex is a part of every person's life at some point and your human plumbing is either going to make that very enjoyable or absolutely terrifying. When something goes wrong with your sexual function it is a big motivator for both men and women to seek help. The reason for this is because plumbing problems tend to isolate people. You can't really socialize or go anywhere when your plumbing is out of order. This eventually leads to some degree of a damaged relationship.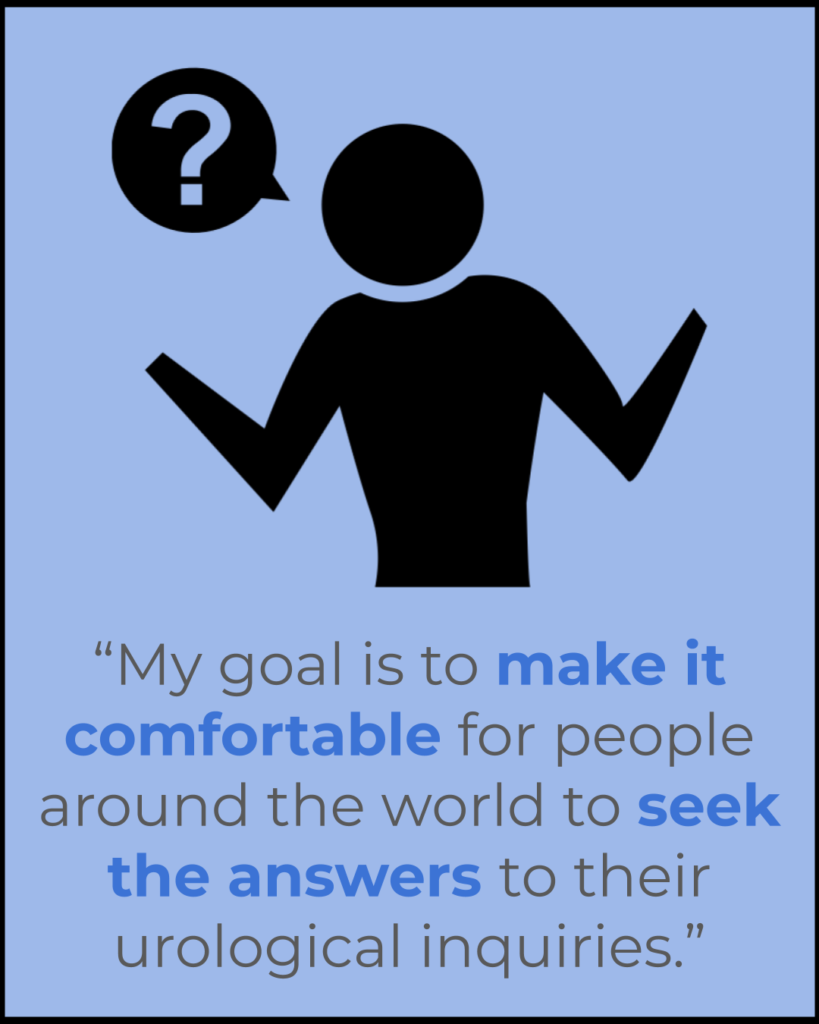 When a man or woman cannot have intercourse it has a deep and profound negative affect on their relationship and general well being. Plumbing problems like incontinence, erectile dysfunction, or lack of desire all add to the burden of "performance". This makes this a very important subject.
Therefore, the best way for us to leverage the motivation to solve your plumbing problems is to educate everyone.
I chose to do this using a light hearted approach with my book. I felt that this would open the door and encourage people to openly discuss the subject and seek help for their urological struggles. The more we talk about our plumbing issues the easier it will be for everyone to ask questions about an embarrassing subject. Soon, the discussion will be so prevalent that the word penis or vagina will sound like every other word in the dictionary and no stigma will keep this conversation in the dark. My goal is to make it comfortable for people around the world to seek the answers to their urological inquiries.
Relationships do not have to suffer, nor does the individual. We need to continue to get the word out and around the world so everyone understands that there is help for your urological condition."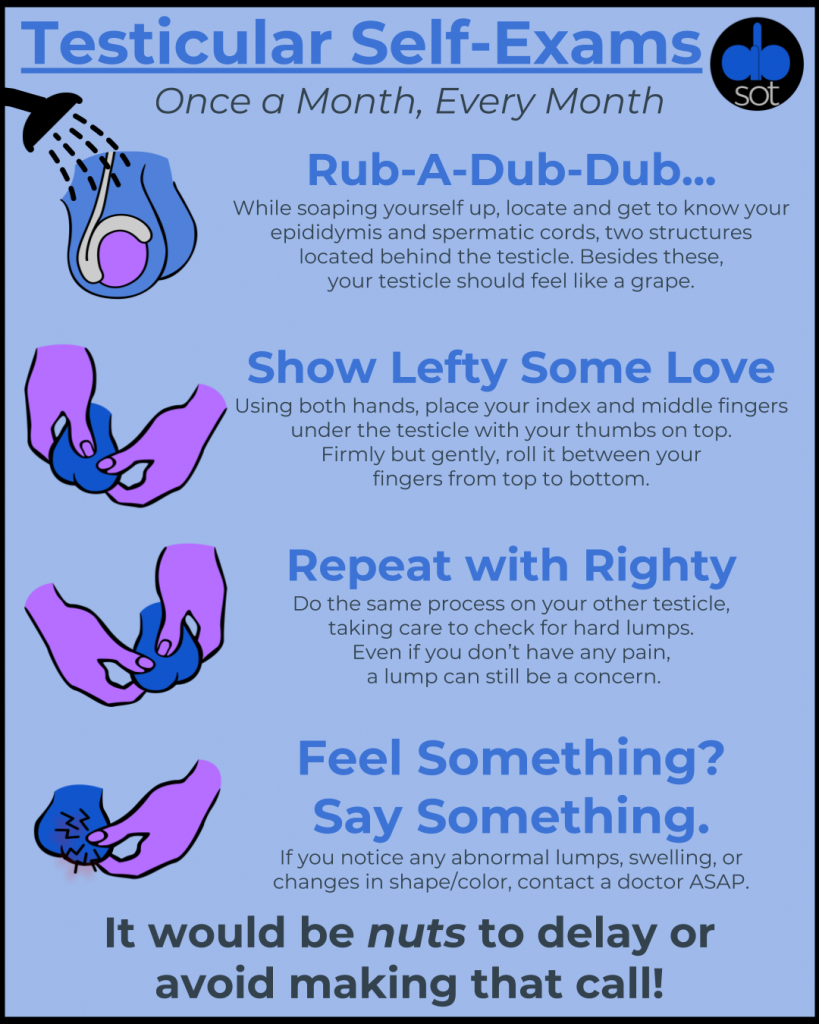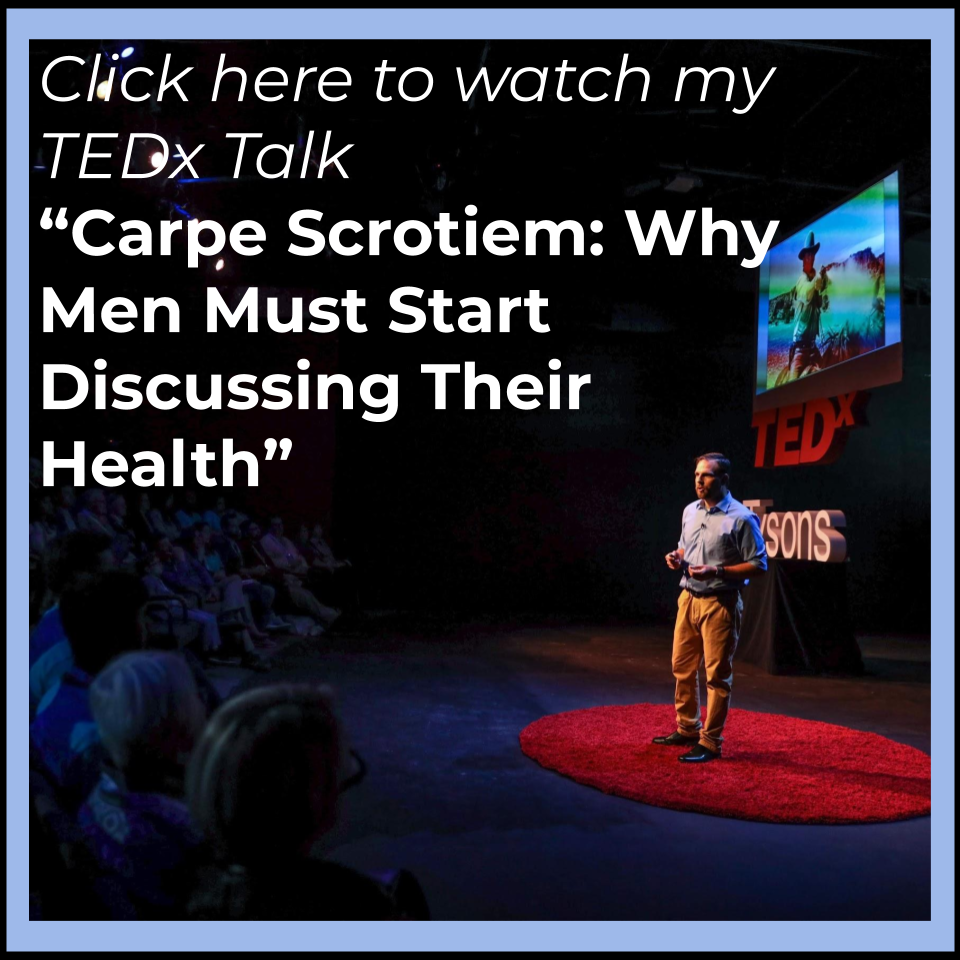 ABSOT is endorsed by the Laughter Arts and Sciences Foundation, a registered 501.c.3 charity. To make a tax-deductible contribution to help continue ABSOT's work with testicular cancer awareness and men's health, click the image below.
January 4, 2021